Gluten-Free Recipes for Soups/Stews
Dal Makhani (Indian lentils)
May 31, 2023

Looking for a delicious Indian recipe? Try this gluten-free, vegetarian dish, full of protein and flavor! Serve with basmati rice for a full meal.  

This recipe is provided courtesy of the Gluten-Free Palate.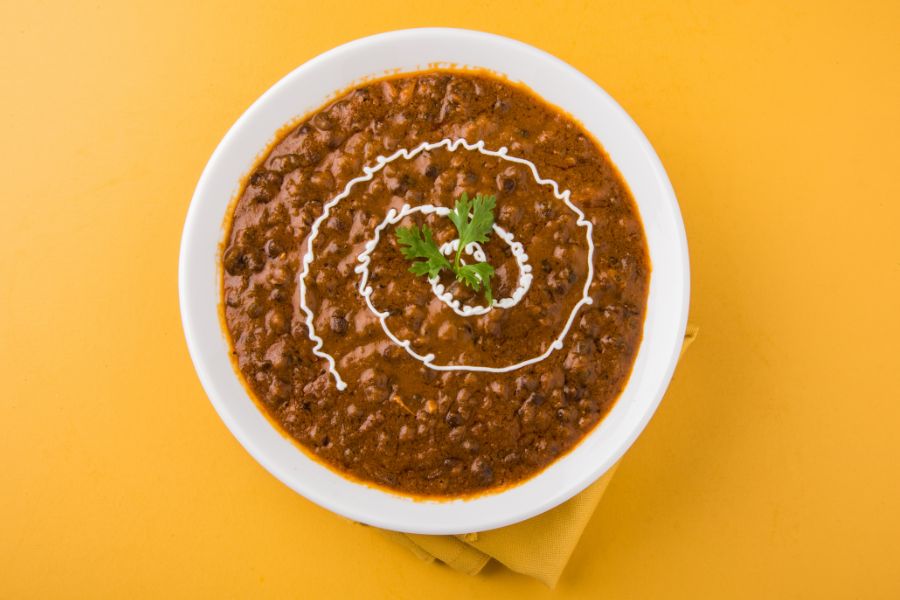 Ingredients
1 onion chopped
1 cup urid beans (black lentils)
⅓ cup canned red beans
⅓ cup canned black beans
1 chopped tomato
1 Tbsp butter
¼ cup cream
3 cups of water
⅕ tsp cumin
⅕ tsp granulated garlic
⅕ tsp chili
⅕ tsp ginger
⅕ tsp turmeric
⅕ tsp fenugreek
⅓ tsp garam masala
½ tsp salt
⅕ tsp pepper
cilantro for serving
Instructions
Pre-soak urid beans for 5-6 hours. This will shorten their cooking time.
In an Instant Pot or pressure cooker on saute mode, fry the onion in butter for 4-5 minutes, stirring occasionally.
Add urid beans, tomatoes, salt, and all spices except garam masala and pour in 3 cups of water. If you are using raw beans instead of canned beans, add them at this stage.
Stir and cook under pressure for 30 minutes. Then gently release the pressure and open the lid, checking the beans—they should be soft.
Pour in the cream and add the garam masala. If you're using canned beans, add them now.
Simmer on saute mode for 5 minutes, stirring occasionally. Serve immediately with fresh cilantro.
PERMALINK
TAGS: SOUPS/STEWS, VEGETARIAN



Wonton Wrappers and Wonton Soup
January 18, 2023

With this recipe, you can make tender, gluten-free wonton wrappers and a simple and delicious wonton soup. This recipe comes from our friends at the Gluten-Free Palate.
For more tips and tricks on making wontons, check out the recipe on their website.
Ingredients
Wonton Wrappers
You can also use these wrappers for potstickers, dumplings, or gyoza. They can be boiled, steamed, pan-fried, or deep fried.
1 cup all-purpose gluten-free flour blend, plus more for sprinkling

If your gluten-free flour blend doesn't contain xanthan gum, add 2 teaspoons to the flour mixture.

½ teaspoon sea salt
2 eggs at room temperature, beaten
2 Tablespoons warm water
Wonton Filling
1 pound ground chicken (sub in pork or shrimp if you prefer)
3 Tablespoons soy sauce
3 Tablespoons rice vinegar
1 Tablespoon honey
2 small green onions, chopped
Wonton Soup
4 cups chicken broth
1 small green onion, chopped
Baby bok choy halved, as much as you like
Instructions
In a large bowl whisk together the flour and sea salt. In a separate bowl combine the eggs and water. Slowly stir the egg mixture into the flour blend and mix until a sticky dough forms.
Dust a clean surface and a rolling pin with flour. Roll the dough gently in all directions to be as thin as possible (less than ⅛-inch thick).
To make the wonton wrappers, cut out squares with a pizza cutter (approx. 3-inch squares). Use immediately, or cover and refrigerate for up to 5 days (bring them to room temperature again before using them).
Combine the ground chicken, soy sauce, rice vinegar, honey, and two green onions in a bowl.
Place 1 teaspoon of filling in the center of each wrapper. Brush two edges with water and fold to seal, pressing out the air. Brush water on one corner and bring corners together, pressing to seal. Tip: place the wrapped wontons into a covered container as you work so they don't dry out.
Boil the wontons in broth for about 5 minutes or until the meat is cooked and the wrappers are tender.
Remove the wontons with a strainer and divide them into bowls.
Wilt the bok choy in the stock.
Divide the broth into bowls and serve with the wilted bok choy and some additional chopped green onion. Serve hot.
PERMALINK
TAGS: SOUPS/STEWS, DINNER, LUNCH



Chicken & Dumpling Soup
December 6, 2021
Recipe courtesy of our sponsor Schär
There's nothing quite as fragrant as the aroma of homemade chicken and dumpling soup wafting through your home—and this satisfying soup tastes just as good as it smells!
---
Ingredients
3 packages Schär Gluten-Free Rosemary Table Crackers
3 eggs
3 Tbsp water (dough)
3 Tbsp butter, melted
1/4 cup green onions, finely chopped
1/4 cup Parmesan cheese, grated
1/4 tsp nutmeg
1 pinch of black pepper
4 cups chicken broth
2 cups water (soup)
8 oz chicken breast
3/4 cup celery, finely diced
3/4 cup carrots, finely diced
3/4 cup parsnips, peeled and thinly sliced
Directions
Put the crackers in a food processor or blender and pulse into fine crumbs*. This makes about 1 cup of crumbs.
Whisk together eggs, water, and butter in a medium bowl. Stir in the cracker crumbs, green onions, cheese, nutmeg and pepper until a stiff mixture forms.
Cover dough and chill for 30 minutes. The mixture will thicken as it chills.
Pour chicken broth and water into a stock pot and bring to a boil over medium-high heat. Lower heat to simmer.
Add chicken breast to the broth and simmer chicken for 20 minutes or until chicken is cooked through.
Remove chicken to a plate to cool.
Add celery, carrots and parsnips to the broth in the pot and simmer for 20 minutes or until vegetables are soft. Meanwhile, cut the cooled chicken breast into small strips about 1 ½ inches long.
Add the chicken back to the broth. Adjust heat to low and bring to a gentle boil.
Form dumpling dough into balls (you can use a teaspoon, mini ice cream scooper, or hands to do this) and then drop the dumplings into the boiling soup.
Reduce heat to simmer, cover the pot, and cook dumplings for 20 minutes.
Ladle soup into bowls and serve.
*If you don't have a food processor you can make the crumbs by placing the crackers in a large zipper-style plastic bag, sealing the bag and using a rolling pin to crush the crackers into fine crumbs.

PERMALINK
TAGS: SOUPS/STEWS, RECIPES OF THE WEEK



Creamy Sausage Cauliflower Gnocchi
October 4, 2021
Recipe courtesy of Jones Dairy Farm and created by Healthy Fitness Meals
A creamy and tasty one-pot meal made with chicken sausage, cauliflower gnocchi, spinach, in a creamy Italian coconut milk base sauce.
This recipe is made with gluten-free Jones Golden Brown® Chicken Links.
---
Ingredients:
1 package Jones Dairy Farm Golden Brown Chicken sausage, cut into bite-size pieces
1/2 medium onion, chopped finely
1 tbsp olive oil
3 garlic cloves, minced
2 tsp Italian seasoning
3/4 cup chicken or vegetable broth
14 oz can diced tomatoes, with juice
1 cup lite coconut milk
1 lb gluten-free cauliflower gnocchi, or gluten-free potato gnocchi
2 cups fresh spinach
1/2 cup freshly grated parmesan cheese
Salt & pepper to taste
Directions:
In a skillet or pan over medium heat, add oil and cook the sausage for 2 minutes. Toss and add in the onions and garlic.
Cook for another 1–2 minutes until the onions are translucent and garlic is fragrant. Then add in the diced tomatoes.
Stir and cook on high for another 2–3 minutes. Pour in the broth, coconut milk, Italian seasoning, and salt and pepper. Mix and let it simmer for 3 minutes.
Next, add the cauliflower gnocchi and spinach. Stir again, cover the pan and reduce the heat to medium. Cook for 5–7 minutes.
Uncover the pan or skillet and give it a good stir. Allow it to cook for another few minutes, or until the gnocchi has cooked through and is nice and soft. Simmer for another minute and allow the sauce to thicken to your liking.
Finally, add in the parmesan cheese and stir. Serve and enjoy
PERMALINK
TAGS: DINNER, SIDE DISHES, SOUPS/STEWS, RECIPES OF THE WEEK



Fifteen Bean Sausage Soup
March 2, 2021

From Chef Oonagh Williams of Royal Temptations Catering
With the bitter cold throughout the country, hot warming soup, full of protein is a very sensible idea.
Watch me make this on NH's ABC WMUR TV.
Please remember that if you are not used to beans and fiber, I describe it as having tummy rumbles and your tummy being in overdrive. This is what fiber does to your body until it becomes used to high fiber.
Gluten-Free Fifteen Bean Soup with Sausage
1 large onion, peeled and finely chopped
2 tbsp olive oil or avocado oil
4 large carrots, peeled and cut into 1/2" or so dice
2 large stalks of celery, washed, quartered lengthways and cut into 1/2" slices
2-4 sausages from 12 oz bag of 4 Al Fresco, gluten-free, cooked chicken sweet smoky bbq, sausage,  quartered lengthways and cut into ½ " slices
8 cups gluten-free chicken or beef stock
Stock concentrate to taste
1 x 20 oz/1+1/4 lb bag of gluten-free 15 beans soaked overnight, drained and rinsed
¼ c gluten-free tomato ketchup
2 bay leaves
2 tsp Penzey Arizona seasoning or Smoked Paprika, just a nice bite of heat, not hot. Optional, and can be left out if you are using a slightly spicy sausage
2 freshly roasted red peppers, pureed.  Once you have tasted freshly roasted red peppers you won't go back to acidic tasting, bought jars. Optional.
1 tbsp gluten-free cornstarch mixed with 2 tbsp water to thicken, optional as my husband likes it slightly thickened.
Directions:
In large stock pot cook onions in olive oil until starting to brown. Add carrot and celery, sausage, and let gently cook for about 5 minutes without burning.
Add beans, stock, spices, tomato ketchup, bay leaves, Bring to a boil, turn down to a simmer and cook covered for about one hour until beans are tender. Remember to taste several different beans as sizes vary and so does cooking time. Dried beans that have sat in cupboard take longer to cook to tenderness. Hurst's web site says to not soak beans, cook in slow cooker on high for 5 hours or low for 7 hours. I haven't tried that.  Cold weather it's warming to have pot simmering on stove.  I have also soaked the beans overnight, drained and rinsed and then cooked them with rest of ingredients in my electric/digital pressure cooker with 5 cups, 40 fl oz fresh water for 15 minutes. Then npr.
Add pureed red peppers and cornstarch mix, bring back to a boil, simmer for 5 minutes until slightly thickened. Taste and adjust seasoning and serve.
I have written a monthly recipe column for Beyond Celiac since January 2011. Remember I have a Culinary Arts degree as well as celiac disease and other food allergies so I know food and live this way daily.

Obviously, talks and appearances are currently canceled, but you can connect with me on FB at Gluten-Free Cooking with Oonagh. I've just filmed recipes at home for NH's ABC WMUR's Cooks Corner and they are being aired. I am also being included in the nationwide library database of online presenters.

You can find Chef Oonagh Williams at Gluten-Free Cooking with Oonagh on FB, web or LinkedIn. Remember most real food is naturally gluten-free until manufacturers 'mess' around with it and only baking really needs changing. Real food is now being called clean eating.

For new recipes and lots of advice, my Delicious Gluten-Free e-cookbook only $20 available to download at www.glutenfreecookingwithoonagh.com, tips, recipes ranging from Grandma's comfort soup to dinner party fare, full color photos, follow link for list of contents and thumbnail photos of full size photos in ebook.

PERMALINK
TAGS: APPETIZERS/SNACKS, SOUPS/STEWS



Easy Pumpkin Soup
October 29, 2020

From Oonagh Williams of Royal Temptations Catering
You're sure to have canned or fresh pumpkin in November, so this is a soup quickly made to have ready in the fridge.
Easy Gluten-Free Pumpkin Soup
Ingredients:
2 cups – use the 15 oz can of pumpkin — just pumpkin in the ingredients
1 medium to large onion, peeled and quartered
4 medium carrots, peeled and cut into chunks
2 celery stalks, trimmed, washed and cut into chunks.
½ cup rice
6-8 cups chicken stock – I use water plus Orrington's stock concentrate, labeled gluten-free.
Freshly ground pepper
1 bay leaf
1 tsp dried thyme. Check thyme doesn't smell moldy, some does.
Directions:
Chop carrot in a food processor. Remove and put in a pressure cooker or large saucepan.
Repeat with onion and celery
Add pumpkin to pressure cooker or saucepan, plus rice, water, stock concentrate, pepper, bay leaf and thyme. Stir all together.
Pressure cooker, I set 10 minutes cooking time. Stovetop pan, bring to a boil, reduce heat to simmer, cover and cook for about 20-30 minutes or until vegetables are lovely and soft. Vegetables will cook quickly when they are chopped small.  Rice will thicken soup.  Depending on quantity of vegetables and how tightly lid fits on regular saucepan, liquid can evaporate.  Also do you like thick or thin soup.
You can add some milk if soup is too thick. Soup should be soft and creamy, so that kids don't have to chew.  I find the pumpkin taste is stronger than same recipe made with butternut squash, but hearty and warming for the cold weather.

PERMALINK
TAGS: HOLIDAY, SOUPS/STEWS, THANKSGIVING



Mongolian Beef Soup
September 30, 2020

From Oonagh Williams of Royal Temptations Catering
Easily made, tasty hot soup for Halloween or any chilly night. 
Gluten-Free Mongolian Beef Soup 
Ingredients: 
~1 lb shaved steak, cut up into smaller pieces. I like the certified Angus my local chain grocery store carries.  I buy either shaved or ground Angus when it's on sale. I think they have meatier taste in the mouth

1 medium onion, peeled and finely chopped

2 carrots, peeled, quartered lengthwise and cut into ~ 1" pieces

2 celery stalks, washed, quartered lengthwise and cut into ~ 1" pieces

2 cloves of garlic, peeled and crushed

1 tbsp fresh ginger 

2 tbsp oil – I normally use avocado oil. I used to use peanut oil, I never use canola or soy oil

1/3 cup tamari (gluten-free soy sauce)

Chop some broccoli stalks if you have them

1 tbsp beef stock concentrate (gluten-free)
Mushrooms,

cleaned, halved and sliced

snap peas
1/2 can baby corn
Handful of chopped frozen spinach
4 oz fine gluten-free rice noodles
1 tbsp corn starch
1/3 cup light brown sugar
Salt and pepper to taste
Directions:
In a large pan, fry all veg together with oil, over medium heat, until softening then add beef and fry for a few minutes until sealed.

Add tamari ,

light brown sugar,

8 c water and 1 tbsp beef stock concentrate (8 cups if you are cooking noodles in soup, only 6 cups if noodles are cooked separately.),  sliced baby corn, mushrooms,salt and pepper to taste.
Leave to cook for at least 20 minutes until carrots and celery are tender.
Add sliced snap peas, handful of chopped frozen spinach and about 4 oz very fine rice noodles, put on top of soup, leave to cook for 5 mins, then use scissors in soup to cut small. Noodles tend to explode outside of large bag and don't break up easily.   I've only seen rice noodles in 'bricks' in large container of several bricks. Look at weight of packet and how many 'bricks' of noodles. Of course you can add more noodles to make soup thicker, or less noodles so soup is runnier.
Thicken with tablespoon of corn starch mixed with 2 tablespoons of water if you want. Remember that noodles will absorb more liquid as soup sits.
PERMALINK
TAGS: SOUPS/STEWS



Chilled Avocado Citrus Soup
June 1, 2020

From Oonagh Williams of Royal Temptations Catering
I had this soup years ago at the Elephant Walk Restaurant (Cambodian/French) in Waltham, MA, and got the staff to give us the recipe. I made my own variations of it since then. It was really good, but I think the most important part is wonderfully ripe tomatoes, followed by ripe avocado. I made it again this week with temps in New Hampshire above 90 and humid.
Gluten-Free Chilled Avocado Citrus Soup
Makes 4-6 Dinner Party portions
Ingredients:
1 small onion, finely chopped or chopped green onion and 1 tsp salt
1+1/3 cup orange juice
2 tbsp – 1/4c freshly squeezed lime juice
salt and pepper
1 tsp  sugar
1 small clove garlic, peeled and finely crushed (flavor mellows and raw garlic taste disappears)
2 tsp extra virgin olive oil
1 large, ripe avocado, halved, stoned and flesh cut into ½ inch cubes.
4-5 Fresh button mushrooms, cleaned, halved and cut into ¼ inch slices
2/3 cup (about 1 Large) really ripe tomatoes, peeled, seeds removed and cut into ½" dice or 5-6 Campari tomatoes.
Freshly chopped cilantro for serving, optional
Directions:
Mix the chopped onion with salt and leave to stand for 20-30 minutes. Rinse the salt off the onion, drain and squeeze off excess water. Draws out the strong juices of raw onion.  Or use chopped green onions (spring onions, scallions) and don't salt them.
Mix orange juice, lime juice, garlic, sugar and salt and pepper, stir to dissolve sugar and salt.
Add olive oil and mix well.
Add diced tomato, avocado, mushrooms and onion, stir gently to mix well.
Let chill and blend for about 1 hour before serving. Taste and adjust salt, pepper and more lime juice before serving.
Top each portion with chopped cilantro – optional
The soup kept well in the fridge for several days.  The orange juice prevents the avocado from browning. It's also tasty with some tiny salad shrimp or crab.

PERMALINK
TAGS: APPETIZERS/SNACKS, SOUPS/STEWS, VEGETARIAN



Black Bean Salsa Soup
March 26, 2020
From Oonagh Williams of Royal Temptations Catering
Some people call this 'Island Caviar' or 'Cowboy Caviar'—it's a speedy recipe for a soup, dip or salad!
With so many of us at home due to coronavirus, I made this salsa into soup and hopefully most of you have similar ingredients in the house at the moment.
The original recipe came from a Tostitos ad in a magazine. I actually do buy Tostitos salsa since my husband liked it at a party. I did alter the recipe considerably since I prefer to 'dump' complete containers of beans, corn, salsa etc rather than measuring smaller quantities and having leftover bits.
This salsa has just a nice bite to it, no runny nose and tingling lips—at least that's what we think with the ingredients we use. We've taken this on picnics with tortilla chips, add cooked chicken or shrimp or even mozzarella balls for main course salad.
Gluten-Free Black Bean Salsa Soup
Ingredients:
1 jar of medium or mild heat salsa – I have used Tostitos chunky medium

(not

restaurant style as that's v. runny)

1 can black beans, drained, rinsed well and drained again. Black beans are more for color difference, choose the bean you prefer.

1 x 11 oz can of corn, drained

2 tbsp hot pepper jelly

Zest and juice of ½ lime

1 tbsp chopped fresh parsley

1 tbsp chopped fresh cilantro -optional if you hate cilantro like my husband

green of half a bunch of green onions.

(add more fresh herbs to your taste.)

Add fresh herbs at end to soup, or don't worry about leaving them out now. 

And no, no extra salt – we are naturally low salt eaters. Plus beans and corn are in salt solution, salsa has salt, pepper jelly frequently has salt. I don't like noticeable salt except on salt and vinegar chips, French fries etc. 

If you want salsa to be thicker like bought salsa's add 1/4 tsp xanthan gum and stir in well. Add more if you like it thicker but do give it time to thicken. Remember food producers threw xanthan gum, guar gum and gum Arabic in many foods before we ever needed to use it for gluten free baking. Just look at some labels for foods you would never have thought would have any gum added. 
Directions:
Melt pepper jelly in 6-8 cup microwave safe bowl in microwave, stir in lime juice and rest of ingredients.

Cover and refrigerate for about 1 hour to allow flavors to blend and serve in a bowl with chips.
I like to put in cubes of mozzarella or Mexican cheese.
Cubes of avocado.
Cubes of ham or pepperoni type meats. 
Cubes of fresh mango or pineapple are amazing.
Add leftover cooked chicken, bbq meats and serve as main course over rice, hot or cold.
Keeps well in fridge for several days.  
Can be added to a chili or other cooked dish as an ingredient. 
We also like to put gluten free tortilla chips on a flat plate, sprinkle with Mexican cheese or Landolakes  and microwave or oven heat until cheese is melted. Top with this salsa, cooked ground beef with cumin and green onion, cooked grilled chicken, fresh cubed tomatoes, cubes of avocado or guacamole, sour cream.  
Use your imagination. 
Great for special appetizer, snack, easy for a meal if you have a variety of stuff sitting in fridge. Mix it with cooked rice or quinoa. Easily portable for lunch, picnics, beach etc.
Make it more of a taco salad – chopped lettuce on plate, top with black bean salsa, then sour cream, guacamole, shredded cheese and crushed tortilla chips.  Delicious no need to turn the oven on meal.
Put some in a quesadilla or mix with rice for a burrito.
Black Bean Salsa, made into soup!
I did cook a chopped small onion in some oil, but feel free to use onion powder.

Then added salsa recipe above. 

Filled the empty salsa jar twice with water, swished around and added to pot.  So roughly 4 cups liquid.

Added 1/2 c raw rice at beginning. You might need to add more liquid if the lid on your pot doesn't fit well , plus rice left overnight absorbs more liquid.

Bring to a boil and simmer for about 20 minutes as apart from rice, everything is basically already cooked.

And without herbs, as 1. I'm being sensible and sheltering in place, 2. I'm not going to the store just for fresh herbs, and 3. New Hampshire is still too cold to grow outside.

Lime zest and juice do make a difference but even just a tablespoon of cider vinegar will add a punch. 
PERMALINK
TAGS: APPETIZERS/SNACKS, SOUPS/STEWS



Mushroom Soup
January 2, 2020

From Chef Oonagh Williams of Gluten-Free Cooking with Oonagh

I have written a monthly recipe column for Beyond Celiac for 9, yes nine, years this January 2020.  Proven, tested recipes by me, cooked many times over the years. Happy to be starting the 10th year with my good, tasty, gluten-free (and dairy-free if possible) recipes and advice as someone who lives this life on a daily basis. 
---
This mushroom soup is another of the soups I make for my Lithuanian cooking demos. This is very mild and creamy due to the higher quantity of milk. Fat-free milk doesn't have the same amount of flavor. This recipe says to use fresh leeks which are quite expensive year-round in New Hampshire, $3/lb and you lose a lot to the root and the coarse outer green skin, so I use 1 lb of regular onions. I have tried it with sweet onions and they are too mild. The original recipe included a pinch of cayenne pepper, but we didn't like the taste and thought it overpowered the gentle flavor of the soup. 
Ingredients:
1 pound onions, peeled and finely chopped 

2 tbsp oil or butter

3 c milk

1 c gluten-free chicken stock 

12 oz mushrooms, regular white button mushrooms, cleaned and thinly sliced

1 tbsp gluten-free cornstarch mixed with 2 tbsp cold water

¼ c chopped fresh parsley 

handful of parsley stalks made into bouquet garni – put in a silicon herb container or in a 1 x 4 coffee filter tied shut

1-2 tbsp sherry

Salt and pepper 
Directions:
I cook the onions and oil together in a 4 c Pyrex jug in the microwave for 5-7 minutes, stopping and stirring, until the onions are extremely soft, almost melting. This sweetens the onions, adds flavor to the soup, and they don't burn in the microwave.

Transfer the onions to an 8 c pan, add the mushrooms and cook for a few minutes until mushrooms are starting to shrink and release juices.

Add milk, stock, salt and pepper to taste and the parsley bouquet garni.

Bring to a boil, turn down to a simmer and cook covered for about 15 minutes.

Stir in cornstarch and water mix and the sherry.

Cook for a few minutes until soup thickens slightly. Add more cornstarch if you like a thicker soup.

Serve sprinkled with fresh parsley.
You can also serve with shredded cheddar, some cubes of ham or sausage.

PERMALINK
TAGS: LUNCH, SOUPS/STEWS