Beyond Celiac Research Summit
The 2019 Beyond Celiac Research Summit will bring together stakeholders crucial to accomplishing the goal of developing new celiac disease treatments.
On November 15, Beyond Celiac is holding its 2nd research summit. The event, Getting over the Peak: The Final Ascent to Realizing Therapies in Celiac Disease, will bring together:
Clinician scientists
Patients
Entrepreneurial drug developers
Patient advocacy leaders
Private and public health care insurance
Food and Drug Administration representatives
Several panel discussions will be webcast about the challenges that our community faces in managing celiac disease, experiences that community members have had in participating in clinical trials, and barriers to research.
The 2019 Summit will build on the results of our innovative 2015 summit, which was widely hailed as highly impactful and led to new scientific collaborations and sharpening of the focus of celiac disease physician scientists.
This year's summit will take place against the backdrop of at least 12 clinical trials for celiac disease treatments. Our aim is to comprehensively address elements that must be in place to get a drug to market, including the remaining barriers in this decades-long journey to help patients with celiac disease.
Register for the webcast of our 2019 Research Summit by filling out the form below:
---
2015 Research Summit: Amplifying Your Voices. Accelerating Research.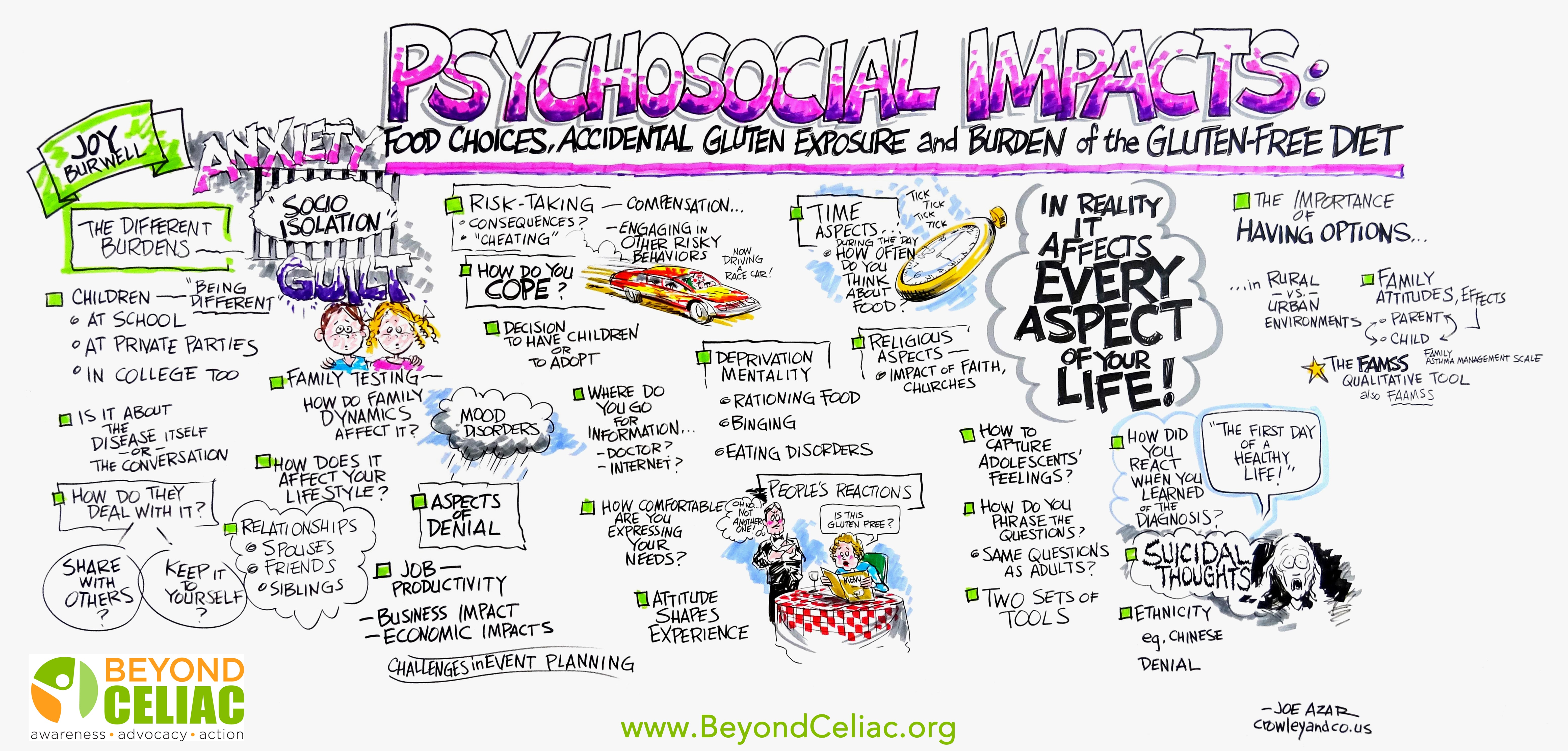 The above graphic was drawn at the 2015 Research Summit based on the conversation at the meeting.
People living with celiac disease need an advocate on their side. That's what Beyond Celiac is here to do. You can read more about our work forging pathways to a cure here.
To arrive at our strategies, we followed an extensive process and connected with both our community and the key stakeholders that can help move the bar for people with celiac disease. To better understand how, together, we could help solve these problems, Beyond Celiac held formal meetings in 2013 and 2014 with experts in celiac disease and other autoimmune diseases. We determined one of the most pressing needs: researchers do not have the information they need from patients in order to help you truly live better, longer.
To kick off this process, Beyond Celiac hosted its first ever Research Summit on April 16-17, 2015. This ground-breaking meeting brought together many different people from different walks of life to hash out the issues that need to be resolved for people living with celiac disease. These people included:
Doctors
Scientists
People personally affected by celiac disease
The biopharmaceutical and diagnostic (testing) industries
Government stakeholders
Advocates and innovators from various healthcare fields
---
Beyond Celiac is solving problems addressed at the 2015 summit with your help through Go Beyond Celiac, an online tool to collect information about your experiences before, during and after diagnosis over a long-term period. We need to collect as much data as frequently as possible so that researchers have an up-to-date understanding of what life is truly like with celiac disease. By gathering this information, we can share it directly with researchers so they can keep you at the center of their work.
We are also continuing to work with our team of experts – including patients like you and your families. We are here to be your partner in problem-solving. Beyond Celiac is committed to:
Collecting your unique experiences to directly stimulate and inform research and resources that build a new future for patients
Better identifying, understanding and treating people with celiac disease
Connecting you to the researchers who are developing new treatment options and a cure for celiac disease
Your story is the missing piece of the celiac disease puzzle. Together, we will break down the walls between our community and scientists so we can work hand-in-hand towards a better life with celiac disease. Join Go Beyond Celiac and share your experiences.
---
Sign Up: Get the Beyond Celiac Research Newsletter to stay up-to-date on the latest in research.
---
Thank you for being part of the solution so we can all live life better, longer.