Gluten-Free Recipes for Vegetarian
Peach Crisp
August 1, 2023

If you're taking advantage of peach season in late July or early August, use fresh peaches for this recipe! Otherwise, substitute canned or frozen peaches. This is the perfect treat to sweeten up a hot summer night, or bring to any gathering, any time of the year, to cap off a hearty meal. 

This recipe is provided courtesy of our friends at the Gluten-Free Palate.

Ingredients
Peach filling
5 cups fresh or frozen and thawed peach slices (about 8 medium-large fresh peaches)
¼ cup granulated sugar
2 Tablespoons cornstarch
1 teaspoon vanilla extract
Crisp topping
¾ cup brown sugar, packed
½ cup all-purpose gluten-free flour blend
½ cup gluten-free quick oats (make sure they are gluten-free, or substitute chopped nuts, such as slivered almonds or chopped pecans)
1 teaspoon ground cinnamon
1 teaspoon ground nutmeg
⅓ cup butter, softened
Instructions
Preheat oven to 375°F (190°C) and position the oven rack in the center of the oven. Lightly spray or grease an 8x8x2" square baking pan.
Make the peach filling: Add the peaches, sugar, cornstarch and vanilla extract to your prepared pan. Stir until combined.
In a separate, medium mixing bowl, combine the brown sugar, flour, oats, cinnamon, and nutmeg.
With a pastry blender or two forks, cut the butter into the flour mixture until it resembles coarse crumbs.
Evenly sprinkle the topping over the peach filling.
Bake for 25 minutes or until the topping is golden brown.
Serve warm with vanilla ice cream or whipped cream. It's best the day of, but can be stored at room temperature for up to two days.
PERMALINK
TAGS: DESSERT, VEGETARIAN



Homemade, Gluten-Free Pasta (no machine needed!)
July 3, 2023

Are you missing perfect, slightly chewy pasta on the gluten-free diet? Then read on for a simple recipe for delicious, gluten-free pasta! You'll be making fancy, authentic noodles in no time.

If you have a pasta machine, use it to make a more consistent noodle shape. Otherwise, don't worry! Your pasta will be equally tasty if you hand cut it.

This recipe is provided courtesy of our friends at the Gluten-Free Palate.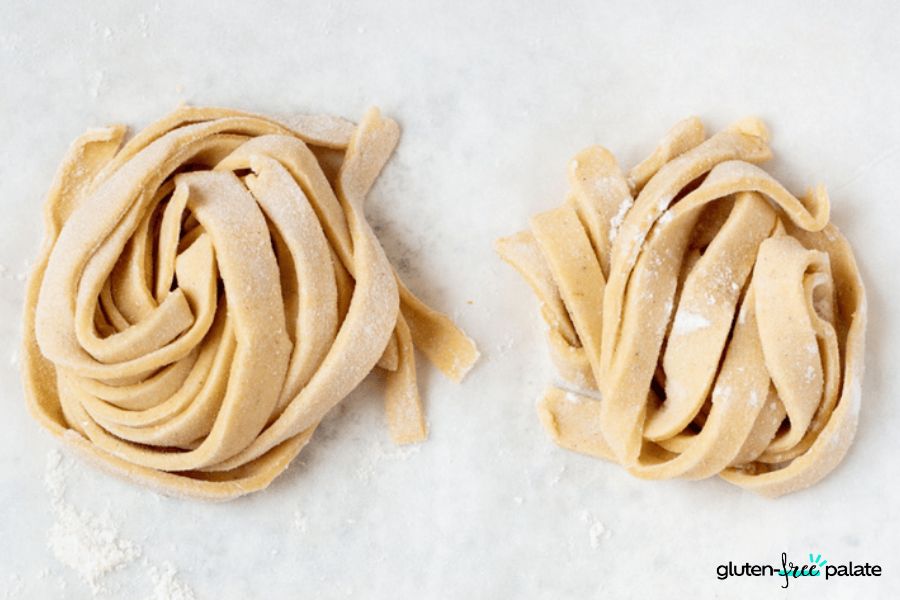 Ingredients
1 ½ cups all-purpose gluten-free flour
2 teaspoons xanthan gum (only if your flour doesn't contain it)
3 large eggs
Instructions
In a large bowl, mix the flour with the xanthan gum, if using.
Make a well in the middle of the flour and add the eggs. Mix well using a fork until all the ingredients are combined and you have a slightly sticky pasta dough. If the dough feels too dry you can add one more egg or a couple tablespoons of water until you reach the desired consistency. If the dough is too wet, add a little bit more gluten-free flour.
Knead the dough on a floured surface for 2-3 minutes until you get a smooth ball of dough. There's no gluten to be formed so you don't need to knead the dough for too long, but the kneading ensures that you break apart lumps of flour, if any exist.
Cut the dough into quarters and roll it out one at a time with a rolling pin. Roll it out into a loose rectangular shape.
Fold the long ends together (so it's easier to cut, unless you're using a very long knife. You could even fold it in thirds). Then slice the dough with a knife according to how thick you want your pasta to be. Unroll or unfold your dough, then toss the pasta strands in some flour and shape them into nests (pictured). You can let the pasta dry, or you can cook it right away in salted, boiling water for 4-8 minutes.
Top your noodles with your favorite gluten-free sauce and serve!
PERMALINK
TAGS: DAIRY-FREE, DINNER, LUNCH, VEGETARIAN



Dal Makhani (Indian lentils)
May 31, 2023

Looking for a delicious Indian recipe? Try this gluten-free, vegetarian dish, full of protein and flavor! Serve with basmati rice for a full meal.  

This recipe is provided courtesy of the Gluten-Free Palate.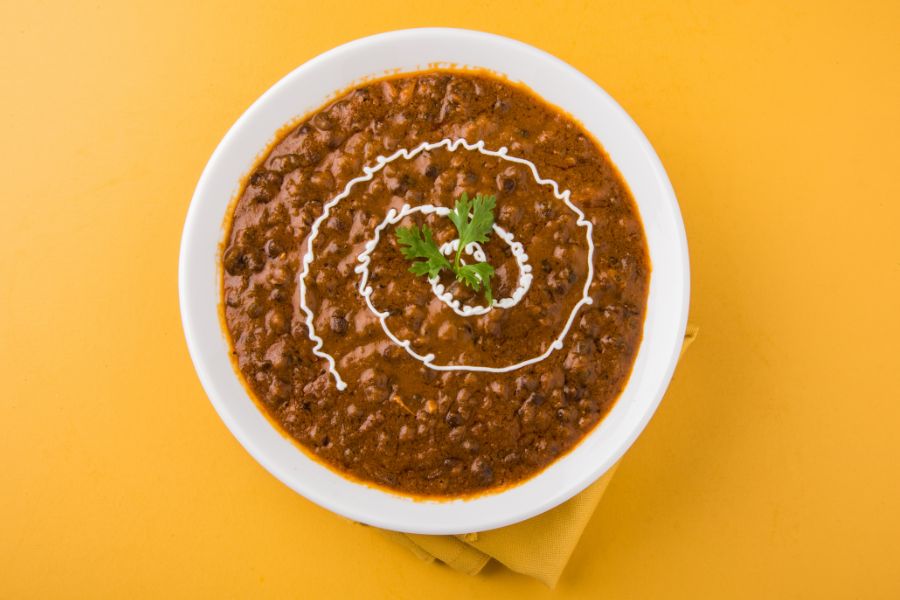 Ingredients
1 onion chopped
1 cup urid beans (black lentils)
⅓ cup canned red beans
⅓ cup canned black beans
1 chopped tomato
1 Tbsp butter
¼ cup cream
3 cups of water
⅕ tsp cumin
⅕ tsp granulated garlic
⅕ tsp chili
⅕ tsp ginger
⅕ tsp turmeric
⅕ tsp fenugreek
⅓ tsp garam masala
½ tsp salt
⅕ tsp pepper
cilantro for serving
Instructions
Pre-soak urid beans for 5-6 hours. This will shorten their cooking time.
In an Instant Pot or pressure cooker on saute mode, fry the onion in butter for 4-5 minutes, stirring occasionally.
Add urid beans, tomatoes, salt, and all spices except garam masala and pour in 3 cups of water. If you are using raw beans instead of canned beans, add them at this stage.
Stir and cook under pressure for 30 minutes. Then gently release the pressure and open the lid, checking the beans—they should be soft.
Pour in the cream and add the garam masala. If you're using canned beans, add them now.
Simmer on saute mode for 5 minutes, stirring occasionally. Serve immediately with fresh cilantro.
PERMALINK
TAGS: SOUPS/STEWS, VEGETARIAN



Cheese Crackers
February 22, 2023

You only need five ingredients to make the best ever gluten-free cheese crackers that taste like a name-brand treat! They're exactly what a cracker should be: crunchy and salty. This recipe is provided courtesy of the Gluten-Free Palate.
Ingredients
¾ cup all-purpose gluten-free flour
¼ teaspoon xanthan gum
1 ½ –2 cups shredded cheddar (about 6-8 oz)

For different flavors, use different cheeses. These photos were taken using a sharp cheddar. For a white cheddar, use white cheddar cheese.

4 Tablespoons butter, cold and cut into 1 inch pieces
Extra salt for sprinkling (optional)
Instructions
Preheat your oven to 350ºF. Line a baking sheet with parchment paper; set aside.
In a food processor, pulse the gluten-free flour blend and xanthan gum. Add the butter pieces and cheese.
Pulse together until it forms a ball (about 2 minutes).
Place the ball between two pieces of wax paper, and roll it out to about ¼" to ⅛" thick.
Using a pastry wheel or pizza cutter, cut into 1-inch shapes/squares.
Carefully peel them and place on a parchment lined baking sheet about ½-inch apart.
Poke each cracker with a fork to prevent over-puffing.
Sprinkle with salt, if desired.
Bake for 12-15 minutes or until lightly browned on the edges. Cool on the baking sheet, and store in an airtight container.
PERMALINK
TAGS: APPETIZERS/SNACKS, FOR KIDS, VEGETARIAN



Besan Halwa
October 25, 2022
Recipe courtesy Beyond Celiac Ambassador Annika Dhariwal, who runs the blog Gluten-Free Jio
Besan is the Hindi word for gram flour. Also known as garbanzo flour or chickpea flour, besan is made from ground chickpeas, which are naturally gluten-free.
This recipe is for a deliciously rich Indian dessert that's full of flavor. Find more recipes from Annika on her website.
Ingredients:
1 cup besan (gram flour)
½ cup ghee
½ cup sugar
2 cups water, warm
2 pinches saffron soaked in 2 Tablespoons warm milk
1 teaspoon cardamom powder
2 Tablespoons pistachio slivers
2 Tablespoons almond slivers
Directions:
Sieve the besan to a fine flour. Make sure that there are no lumps in the flour.
Heat ghee in a heavy bottom steel pan.
Once the ghee is hot, lower the heat to medium and add besan to it.
Take a heavy flat spatula and start roasting the besan in ghee. After 2 minutes, reduce the heat to low.
Stir and roast the besan in ghee on low heat for about 15 minutes.
Roast the besan until it starts separating from the ghee. At that point, begin to slowly add 2 cups of warm water to the pan, stirring until the water is absorbed.
When the water is absorbed, add the sugar, cardamom and saffron soaked in milk. Keep stirring continuously.
Switch off the heat when you see the desired consistency (some prefer it a bit smoother, like a paste, and others with more substance and shape) and let it stand for 2-3 minutes.
Garnish with chopped pistachios and almonds and serve warm.
PERMALINK
TAGS: DESSERT, HOLIDAY, VEGETARIAN



Peanut Butter Cups
November 2, 2021
This recipe earned an honorable mention in the 2021 Beyond Celiac Gluten-Free Holiday Recipe Contest!
Recipe by Tammy Aiken
---
Gluten-Free and Dairy-Free Peanut Butter Cups by Tammy
Ingredients:
1/3 cup gluten-free smooth peanut butter
1/8 teaspoon sea salt or table salt
1 tablespoon confectionery sugar (powdered sugar)
1 cup Enjoy Life Semi-sweet Vegan chocolate chips
Peanut butter cup mold. I use the Palksky chocolate almond peanut butter cup mold.
Directions:
In a glass measuring cup mix the peanut butter, salt, and sugar. Set aside.
In another glass measuring cup or a microwavable bowl, add 1 cup of chocolate chips.
Melt the the chocolate chips in the microwave in 30 seconds intervals until smooth, mixing as you go.
Warm the peanut butter mixture in the microwave for 15 to 20 seconds until melted and smooth. Mix.
Add 1 full teaspoon of chocolate to each mold section. Spread over the bottom and up the sides of the mold.
Add 1/2 tablespoon of the peanut butter filling to each section and spread over the bottom.
Add 1/2 tablespoon of chocolate over the top and spread to cover.
Put into the refrigerator for 25 to 30 minutes and allow them to set.
Remove the mold from the fridge, pop each cup out and enjoy.
PERMALINK
TAGS: DESSERT, HOLIDAY, VEGETARIAN, DAIRY-FREE



Summer Tomato Corn Galette
September 2, 2020

From Oonagh Williams of Royal Temptations Catering
'Galette' just means rustic looking, single crust, free-form pie with a filling and the crust folded partway over the top of the filling. Bon Appétit says, "their imperfections are what set them apart—in fact, the less you do, the better they look." 
Normally during the warmer months, once a month a girlfriend and I drive down to Wilson Farm in Lexington, MA. For those that don't know, Lexington (yes the same one you learned about in history) is a very old area of Mass, full of expensive housing and Wilson Farm has 33 acres right in the middle. The farm has been operating there since 1884 with the first farm stand in the 1950's.  
Most of their fruit and vegetables are locally grown and you can see the fields surrounding the shop, right in the middle of houses. Remember as I always say on NH's ABC WMUR's Cooks Corner, most real food is naturally gluten-free until manufacturers mess around with it. Inside, the fruit and veg are arranged like the finest French markets, with fresh baked goods (including gluten-free), large cheese selection, meats, fresh from their kitchen soups, salads, meals and more, as well as flowers and plants.  Weekends and special event times like the tomato festival, there would be samples to try. They have another farm in Litchfield, NH and locally we could look across the river from the Anheuser Busch plant to the red barn building in Litchfield, but had to drive the long way around to get there. 
There is a recipe wall behind the row of checkouts, with lots and lots of free recipe cards for you to take away and make yourself. This is one of the recipes I used to make in wheat flour days and now with fresh local corn and tomatoes abounding, I make it gluten-free.
Gluten-Free Summer Tomato Corn Galette
recipe Cornmeal Galette dough for 1 galette, about 11 inches in diameter
Again with local availability at the moment, I didn't have regular gluten-free cornmeal so I substituted Krusteaz honey cornbread mix. Bob's Red Mill carries gluten-free cornmeal and cornflour but one is too gritty and the other is too fine for my taste. 
Ingredients:
4 oz, ¾ c KAF gluten-free all-purpose flour – no xanthan gum, no baking powder. 

2/3 cup/ 4 oz Krusteaz gluten-free honey cornbread mix, does contain both xanthan gum and baking powder so don't add any more. Substitute cornmeal/cornflour that you have,

by weight,

and dough might need more liquid added.

(1 tsp. Sugar – not necessary if you use Krusteaz)

salt and pepper

⅓ cup grated Parmesan cheese, I've also used Sharp cheddar when I was out of Parmesan

6 Tbsp, 3 oz, cold butter, cut into ½-inch

slices

 

2 Tbsp olive oil

3 tbsp ice water
Filling
2 Tbsp. olive oil

1 large onion, peeled and finely chopped

2 cloves garlic, peeled and finely chopped

1 Tbsp. marjoram, chopped, I've also used fresh oregano and fresh basil, depending on what you have grown or what's available 

Kernels from 2 ears of corn (about 2 cups) Fresh corn makes a phenomenal difference in taste compared to frozen or canned but they still taste good. I cook extra corn day before, then cut off kernels

1 large roasted red bell pepper, peeled, deseeded and cut into 1" squares.  I don't know what this would taste like with jarred peppers, freshly roasted red bell pepper is addictive and freezes well

~3 large ripe tomatoes, sliced – I like Campari

¾ c 3 oz shredded cheddar
Directions:
I put the flour,

Krusteaz

, (sugar), salt, pepper, and Parmesan cheese in food processor. Add the chilled butter and pulse until butter is small pieces. Or in a bowl by hand or with a pastry blender.  Add the olive oil and ice water, and pulse until the dough begins to come together. It should be soft. Gather the dough with your hands and shape it into a disk. Wrap the disk in plastic and refrigerate for

about

1 hour.

I like to cook onion in microwave-safe dish until meltingly tender and sweet.  Plus you don't have to keep watching pan to see if it's burning. Season with salt and pepper. When onion is tender, add the corn, cut up bell pepper, garlic, marjoram or herb of choice, and set aside to cool.

I have also made this with 2 diced zucchini cooked with onions and didn't think it added to taste.

This is a soft dough and I find it easiest to grease pyrex 9" pie plate and bake on metal sheet or use my Le Creuset cast iron 10" skillet. Put soft ball of dough onto skillet/pie dish, dust your fingers with some gf flour, press with your fingers. and press dough to reach up sides of pan. You are going to fold down edges of dough on side of pan on top of onion corn filling.

Spread the onion and corn mixture over base of the dough. Starting about 2 inches in from edge of onion mix, arrange the tomatoes in a single layer over the onions and season them with salt and pepper. Sprinkle the cheese over the tomatoes. Lift the edges of the dough and fold them inward over the filling, pleating as you go, to form a folded-over border. I use a thin plastic spatula and 'flip' the dough from edge of pan down onto filling.  I find this easier than trying to persuade dough away from side of pan with my fingers. Pinch together any tears in the dough. I have tried making this by rolling out and lifting dough and find pressing dough into pan is easier. 

Bake in preheated 375 * oven until the crust has browned and the cheese has melted, 40 to 50 minutes. Let cool for 10 minutes before serving. This is a rich, very 'short' pastry.  In a metal pan, the bottom crust is more thoroughly cooked. A totally different recipe said about serving a potato casserole with salsa, sliced avocado and sour cream.  I tried that but I thought it was too many extra flavors.
wilsonfarm.com recipes are online
Wilson Farm, 10 Pleasant Street, Lexington, MA 02421
(781) 862-3900

PERMALINK
TAGS: APPETIZERS/SNACKS, DINNER, HOLIDAY, SIDE DISHES, VEGETARIAN



Cilantro Lime Cauliflower Rice
July 28, 2020

From Oonagh Williams of Royal Temptations Catering
Cauliflower rice can be boring. I wanted to come up with a recipe that's not as boring and I think I have achieved that with this one. I hope you like it! Half a head of cauliflower should yield about 1lb or four cups of rice using the (coarse) grating attachment for your food processor. If you chop or pulse the cauliflower you just get square-shaped bits similar to couscous, not rice. Enjoy!
Gluten-Free Cilantro Lime Cauliflower Rice 
Ingredients:
1/2 large head of cauliflower shredded – about 1lb (500g) weight, 4 cups.
1 Tbsp (15 ml) butter
1 Tbsp (15ml) olive oil, avocado oil or almond oil
Medium onion peeled and finely chopped
2 cloves garlic, peeled and finely crushed
1/2 red bell pepper, deseeded and cut into 1/2-1 inch squares. I like red for color and sweetness.
2 tsp (10 ml) hot pepper jelly, optional
Lime juice – about 1 tablespoon /15 ml
About 1/2 c (120 ml) cilantro chopped – is about 2 tbsp (30ml) when chopped.
Salt and pepper
1 Tbsp butter to finish – optional
Directions:
Break the cauliflower in florets and cut off most of the stalk. The stalk just doesn't shred nicely.
Rinse cauliflower, drain and pat dry.
Put shredding blade into your food processor and shred cauliflower. It shreds into rice looking grains except for little pieces of stalk.
Melt some butter and olive oil together in 9 inch skillet.
Add finely chopped onion, red bell pepper and garlic. Cook over medium heat for about 3-5 minutes until softening.
Add cauliflower rice, salt, pepper and optional hot pepper jelly, stir well, cover and cook for another 5 minutes until cauliflower is cooked as you like it.
Stir in lime zest, lime juice, cilantro, add a knob of butter if you want, it really adds to taste. Turn off heat, let stand for a minute for flavors to mingle.
Note: Use basil and sun-dried tomatoes for Italian flavors, oregano, mint, artichokes, and feta for Greek flavors. Use cooked beans and some coconut milk for Caribbean style. Parsley and green onions can be used on all recipes.

You can find Chef Oonagh Williams at Gluten-Free Cooking with Oonagh on Facebook, LinkedIn or her website. Chef Oonagh has a culinary arts degree, celiac disease and other food allergies. Remember most real food is naturally gluten-free until manufacturers 'mess' around with it and only baking really needs changing.

PERMALINK
TAGS: DINNER, SIDE DISHES, VEGETARIAN



Strawberry Vinaigrette
June 30, 2020

From Oonagh Williams of Royal Temptations Catering
I've tried some strawberry vinaigrette recipes with sour cream and yogurt and didn't like them. So I went back to my old faithful of a maple herb vinaigrette.  Use honey if you don't have maple syrup. Strawberry jam sweetens and helps intensify the strawberry flavor. You MUST use sweet ripe strawberries or you're wasting your time and money. It's not sticky sweet. A girlfriend that doesn't like sweet loved it. My husband thinks a salad isn't complete without feta cheese and cashews. 
The following was filmed and edited by us at home. It aired on ABC-TV on June 3, 2020.
Gluten-Free Strawberry Vinaigrette
Makes about 1 cup of vinaigrette
Ingredients:
1 tbsp lemon juice, or white wine vinegar or apple cider vinegar.  Please make sure vinegars say made from wine or grapes, apples or cider. 

1 tsp gf honey mustard or regular Dijon

salt and pepper to taste

1 tbsp strawberry jam – I've used Bonne Maman or Trappist jams

1 tbsp maple syrup or honey or 2 tbsp jam. 

1 tbsp chopped parsley 

green of the stalk of one green onion – none of the white end.

4 med to large ripe strawberries, washed, hulled and quartered

1/4 c light tasting oil. Extra virgin olive oil overpowers the flavor. I tend to use 3 tbsp avocado oil and 1 tbsp evo. I never use canola oil.
Directions:
Put everything in a 2 cup jug and blend it with an immersion blender, or a liquidizer. If you don't have either, mash the strawberries really well with the rest of the ingredients. 

Cover and leave for at least an hour for the flavors to meld. Taste then and adjust salt, sugar, vinegar to your taste.  But remember a dressing tasted on its own on a spoon or fork tastes very different from a dressing on a salad with other fruit, veggies and cheese. So stir dressing and dip a lettuce leaf in to taste after dressing's sat for a while.
I like fresh crisp lettuce, some more sliced strawberries, some chopped celery or Gala apple for crunch, and some feta cheese.  I've tried it with Brie but it didn't taste right. Add cooked chicken, shrimp, tuna for more protein. Spinach leaves. Try making it with fresh raspberries, peaches, mango and appropriate jam. 

PERMALINK
TAGS: SIDE DISHES, VEGETARIAN, APPETIZERS/SNACKS



Chilled Avocado Citrus Soup
June 1, 2020

From Oonagh Williams of Royal Temptations Catering
I had this soup years ago at the Elephant Walk Restaurant (Cambodian/French) in Waltham, MA, and got the staff to give us the recipe. I made my own variations of it since then. It was really good, but I think the most important part is wonderfully ripe tomatoes, followed by ripe avocado. I made it again this week with temps in New Hampshire above 90 and humid.
Gluten-Free Chilled Avocado Citrus Soup
Makes 4-6 Dinner Party portions
Ingredients:
1 small onion, finely chopped or chopped green onion and 1 tsp salt
1+1/3 cup orange juice
2 tbsp – 1/4c freshly squeezed lime juice
salt and pepper
1 tsp  sugar
1 small clove garlic, peeled and finely crushed (flavor mellows and raw garlic taste disappears)
2 tsp extra virgin olive oil
1 large, ripe avocado, halved, stoned and flesh cut into ½ inch cubes.
4-5 Fresh button mushrooms, cleaned, halved and cut into ¼ inch slices
2/3 cup (about 1 Large) really ripe tomatoes, peeled, seeds removed and cut into ½" dice or 5-6 Campari tomatoes.
Freshly chopped cilantro for serving, optional
Directions:
Mix the chopped onion with salt and leave to stand for 20-30 minutes. Rinse the salt off the onion, drain and squeeze off excess water. Draws out the strong juices of raw onion.  Or use chopped green onions (spring onions, scallions) and don't salt them.
Mix orange juice, lime juice, garlic, sugar and salt and pepper, stir to dissolve sugar and salt.
Add olive oil and mix well.
Add diced tomato, avocado, mushrooms and onion, stir gently to mix well.
Let chill and blend for about 1 hour before serving. Taste and adjust salt, pepper and more lime juice before serving.
Top each portion with chopped cilantro – optional
The soup kept well in the fridge for several days.  The orange juice prevents the avocado from browning. It's also tasty with some tiny salad shrimp or crab.

PERMALINK
TAGS: APPETIZERS/SNACKS, SOUPS/STEWS, VEGETARIAN