Gluten-Free Recipes for Dinner
Samosas
October 31, 2023

Samosas are savory, fried pastries from South Asia, suitable as appetizers or a main meal. Try this mouth-watering veggie version, and once you get the hang of it you can customize the filling with whatever ingredients you want!

This recipe is provided courtesy of our friends at the Gluten-Free Palate. 
Ingredients
Filling
1½ pounds medium potatoes, peeled and cut into ½-inch chunks
1 Tbsp olive oil
2 tsp butter
¼ tsp cumin
½ tsp fennel seeds
1 Tbsp curry powder
½ tsp cayenne powder
¼ tsp ground turmeric
1 tsp garam masala
1 tsp ginger paste
1 onion finely chopped
2 cloves garlic, finely minced
4 oz thawed peas
1 carrot, shredded
1 tsp salt
1 tsp pepper
1 Tbsp lemon juice
¼ cup water
2 Tbsp chopped cilantro
Oil for frying
Pastry
3 cups gluten-free plain flour (ie, doesn't include xanthan gum, baking powder, yeast, etc.)
2 tsp xanthan gum
1 tsp baking powder
1 tsp salt
1 egg
4 Tbsp olive oil
1-1 ½ cups warm water
Dipping Sauce
1 tsp oil
1 clove garlic, finely minced
1 Tbsp concentrated tamarind paste
¼ cup hot water
½ tsp salt
½ tsp cayenne powder
1 Tbsp brown sugar
½ tsp ground cumin
Instructions
Filling
Boil the potatoes until just tender, about 15 minutes. Drain and set aside.
Heat a large wok over medium to low heat. Add olive oil and butter.
Add cumin, fennel seeds, curry powder, cayenne powder, ground turmeric, masala, and ginger paste. Saute until fragrant.
Add garlic, and saute again for a few minutes.
Add onion until translucent and fragrant.
Add thawed peas and shredded carrot. Cook until tender.
Add boiled potatoes to the wok. Add salt, pepper, lemon juice, and water. You may add salt and pepper according to your liking.
Add the coriander and cook for a few minutes
When all the filling is cooked, remove it from the heat and allow it to cool.
Pastry
In a large bowl, mix gluten-free plain flour, xanthan gum, baking powder, and salt.
Add egg and olive oil. Mix them until become the dough becomes crumbly.
Add warm water little by little. Then knead until it becomes smooth. Knead lightly to bring it together as a ball. Remember, there's no gluten, so not much kneading is required.
Cover with plastic wrap and rest for 30 minutes.
Assemble the Samosas
Divide the dough into 8 parts on a floured flat surface. Roll one part of the dough out to a 6 inches round. Cut in half, diagonally.
Working with one of the two cut pieces, lightly wet the straight edge you just cut.
Fold 1 edge to the other over your finger, so it becomes a cone, and pinch them to seal.
Hold it on your hand and fill it with 1 spoonful of samosa filling.
Close them by folding the round side and pinching to seal.
Repeat the process with the rest of the dough.
Dipping Sauce
Heat oil in the saucepan. Add garlic and saute.
Add tamarind paste, hot water, salt, chili powder, brown sugar, and ground cumin. Cook until thickened.
Cook the Samosas
Fry a few at a time, turning every few minutes, until crispy and golden, about 8-10 minutes.
Use a slotted spoon to transfer fried samosas to a platter lined with paper towels.
Serve hot with dipping sauce.
PERMALINK
TAGS: VEGETARIAN, SIDE DISHES, LUNCH, DINNER, APPETIZERS/SNACKS



Orange Chicken
October 4, 2023

Missing perfectly glazed orange chicken from your local takeout place? Yearn no more! We have a perfect, gluten-free substitution recipe, provided by our friends at the Gluten-Free Palate.
Ingredients
Sauce
Zest from 1 orange
1 cup orange juice from 1 orange (use the orange you zested)
⅓ cup granulated sugar
2 tablespoons rice vinegar (or white vinegar)
3 tablespoons gluten-free soy sauce or tamari
½ teaspoon ground ginger
½ teaspoon garlic powder
1 tablespoon cornstarch
2 tablespoons water
Chicken 
4 skinless chicken breasts cut into 1-inch pieces
3 eggs, whisked
½ cup all-purpose gluten-free flour blend
½ cup cornstarch
oil for frying, ideally one with high smoke point oil, like avocado oil
Instructions
Sauce
Add orange juice, sugar, vinegar, gluten-free soy sauce, ginger, and garlic powder to a large pot or wok, and heat over medium heat for 3-5 minutes.
In a small mixing bowl, whisk 1 tablespoon of cornstarch with 2 tablespoons of water to form a paste. Add the paste to orange sauce and whisk together.
Continue to cook for 5 minutes, until the sauce begins to thicken.
Once the sauce is thickened, remove from heat and add the orange zest. Stir until combined; set aside.
Chicken
Add the gluten-free flour and cornstarch to a shallow dish and stir to combine.
Whisk eggs in separate shallow dish.
Dip chicken pieces in egg mixture, coating all sides, and then in the flour mixture, coating all sides. Place on a separate plate. Repeat until all chicken is coated.
Heat 2 -3 inches of oil in a heavy-bottomed pot over medium-high heat. If it starts to smoke, turn the heat down.
Working in batches, add chicken pieces to the pan, but don't overcrowd the pan.
Cook for 3-4 minutes, turning halfway through, until the chicken is brown on all sides and cooked through.
Place the cooked chicken on a paper-towel-lined plate and repeat until all chicken is cooked.
Once all the chicken is cooked, add the chicken to the large pot with the orange sauce and toss to coat.
Serve hot over rice.
Notes and Tips 
Make the sauce first, so it's ready to go when the chicken is done.
Breast meat and thigh meat both works well in this recipe.
You can use chicken strips or smaller pieces of chicken.
If you don't have cornstarch, you can use arrowroot starch or tapioca starch.
The oil temperature should be around 350F.
PERMALINK
TAGS: LUNCH, DINNER



Homemade, Gluten-Free Pasta (no machine needed!)
July 3, 2023

Are you missing perfect, slightly chewy pasta on the gluten-free diet? Then read on for a simple recipe for delicious, gluten-free pasta! You'll be making fancy, authentic noodles in no time.

If you have a pasta machine, use it to make a more consistent noodle shape. Otherwise, don't worry! Your pasta will be equally tasty if you hand cut it.

This recipe is provided courtesy of our friends at the Gluten-Free Palate.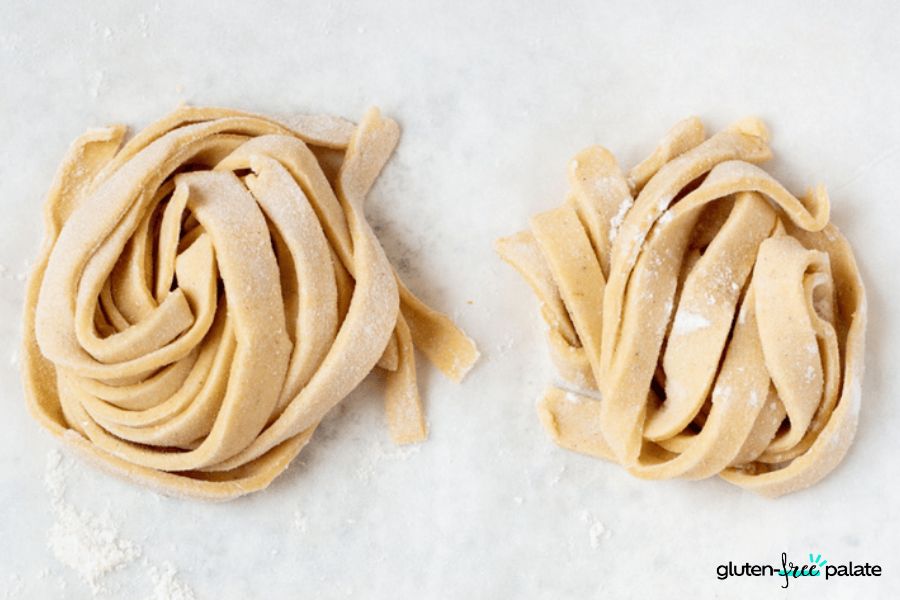 Ingredients
1 ½ cups all-purpose gluten-free flour
2 teaspoons xanthan gum (only if your flour doesn't contain it)
3 large eggs
Instructions
In a large bowl, mix the flour with the xanthan gum, if using.
Make a well in the middle of the flour and add the eggs. Mix well using a fork until all the ingredients are combined and you have a slightly sticky pasta dough. If the dough feels too dry you can add one more egg or a couple tablespoons of water until you reach the desired consistency. If the dough is too wet, add a little bit more gluten-free flour.
Knead the dough on a floured surface for 2-3 minutes until you get a smooth ball of dough. There's no gluten to be formed so you don't need to knead the dough for too long, but the kneading ensures that you break apart lumps of flour, if any exist.
Cut the dough into quarters and roll it out one at a time with a rolling pin. Roll it out into a loose rectangular shape.
Fold the long ends together (so it's easier to cut, unless you're using a very long knife. You could even fold it in thirds). Then slice the dough with a knife according to how thick you want your pasta to be. Unroll or unfold your dough, then toss the pasta strands in some flour and shape them into nests (pictured). You can let the pasta dry, or you can cook it right away in salted, boiling water for 4-8 minutes.
Top your noodles with your favorite gluten-free sauce and serve!
PERMALINK
TAGS: VEGETARIAN, LUNCH, DINNER, DAIRY-FREE



Empanadas
April 26, 2023
An empanada is a fried or baked hand pie, common across Latin and South America. Try this gluten-free recipe for lunch or dinner, or make enough to share as appetizers as your next get-together. Substitute the beef with beans and you have a vegetarian version!
This recipe is provided courtesy of the Gluten-Free Palate.
Ingredients
Dough
3 cups all-purpose gluten-free flour
1 teaspoon xanthan gum (omit if the flour already contains it)
1 teaspoon salt
1 cup unsalted cold butter, cubed
1 large egg
½ cup cold buttermilk
Filling
1 Tablespoon olive oil
1 onion, diced
1 lb ground beef
1 teaspoon dried oregano
1 teaspoon garlic powder
1 teaspoon paprika
½ teaspoon cumin
½ teaspoon salt
½ teaspoon black pepper
2 Tablespoons ketchup
½ cup shredded cheese of choice, like Colby-Jack, cheddar, mozzarella, or a mix
Egg Wash
1 large egg beaten with 1 Tablespoon of water
Instructions
In a large mixing bowl add the flour, xanthan gum (if using), and salt. Whisk to combine. Add the cold cubed butter and use a pastry cutter or your hands to mix until the mixture resembles a coarse meal. Create a well in the middle.
Add the egg and buttermilk to the well you just created in the flour. Gradually mix the egg into the flour using a fork. Mix until the dough thickens and forms a ball. Wrap tightly in a plastic wrap and allow the dough to rest for 30 minutes or so in the refrigerator while preparing the filling.
Heat the olive oil in a frying pan over medium-high heat. Add the chopped onion and sauté for 5-6 minutes or until translucent.
Add the ground beef, oregano, garlic powder, paprika, cumin salt, and pepper. Cook until the ground beef is browned all over. Drain the fat and return the mixture to the pan on medium heat.
Add the ketchup and sauté for 2-3 minutes. Taste and adjust salt and pepper if needed. Mix in the shredded cheese and take the mixture off the heat. Set aside to cool.
Preheat the oven to 350ºF and line a baking sheet with parchment paper. Remove the dough from the refrigerator and lightly flour a clean surface.
Roll the dough into a thin circular shape. To make the small empanadas use a round cutter or a drinking glass with a 4-inch diameter to cut holes into the dough. You can use whatever size you want. Place the circle onto the baking sheet.
Repeat step 7 with the remaining dough until no dough remains.
Place about 1 Tablespoon of filling in the center of each circle. Brush some egg wash on one side of the circle, then fold over to create half a circle. Crimp the edges with a fork.
With a small knife cut a small slit to let the steam escape.
Brush the empanadas with egg wash and bake in the preheated oven for 20-25 minutes or until golden brown.
Alternative: Fried Empanadas
Instead of baking them, you can fry the empanadas in vegetable oil in a large frying pan. Fry them for 3-4 minutes per side or until golden brown and crispy.

PERMALINK
TAGS: LUNCH, DINNER, APPETIZERS/SNACKS



Wonton Wrappers and Wonton Soup
January 18, 2023

With this recipe, you can make tender, gluten-free wonton wrappers and a simple and delicious wonton soup. This recipe comes from our friends at the Gluten-Free Palate.
For more tips and tricks on making wontons, check out the recipe on their website.
Ingredients
Wonton Wrappers
You can also use these wrappers for potstickers, dumplings, or gyoza. They can be boiled, steamed, pan-fried, or deep fried.
1 cup all-purpose gluten-free flour blend, plus more for sprinkling

If your gluten-free flour blend doesn't contain xanthan gum, add 2 teaspoons to the flour mixture.

½ teaspoon sea salt
2 eggs at room temperature, beaten
2 Tablespoons warm water
Wonton Filling
1 pound ground chicken (sub in pork or shrimp if you prefer)
3 Tablespoons soy sauce
3 Tablespoons rice vinegar
1 Tablespoon honey
2 small green onions, chopped
Wonton Soup
4 cups chicken broth
1 small green onion, chopped
Baby bok choy halved, as much as you like
Instructions
In a large bowl whisk together the flour and sea salt. In a separate bowl combine the eggs and water. Slowly stir the egg mixture into the flour blend and mix until a sticky dough forms.
Dust a clean surface and a rolling pin with flour. Roll the dough gently in all directions to be as thin as possible (less than ⅛-inch thick).
To make the wonton wrappers, cut out squares with a pizza cutter (approx. 3-inch squares). Use immediately, or cover and refrigerate for up to 5 days (bring them to room temperature again before using them).
Combine the ground chicken, soy sauce, rice vinegar, honey, and two green onions in a bowl.
Place 1 teaspoon of filling in the center of each wrapper. Brush two edges with water and fold to seal, pressing out the air. Brush water on one corner and bring corners together, pressing to seal. Tip: place the wrapped wontons into a covered container as you work so they don't dry out.
Boil the wontons in broth for about 5 minutes or until the meat is cooked and the wrappers are tender.
Remove the wontons with a strainer and divide them into bowls.
Wilt the bok choy in the stock.
Divide the broth into bowls and serve with the wilted bok choy and some additional chopped green onion. Serve hot.
PERMALINK
TAGS: DINNER, LUNCH, SOUPS/STEWS



Fully Loaded Cheesy Breakfast Casserole
December 1, 2022
When we say fully loaded, we're not joking. This gluten-free casserole has all our favorite things: bacon, breakfast sausage, cheese and hash browns.
The recipe is courtesy of Jones Dairy Farm and features their certified gluten-free Dry Aged Bacon and All Natural Roll Sausage. This sausage roll is made from an original family recipe with only three ingredients: pork, salt and hand-blended spices. Remember, Jones Sausage is found in the freezer section. Check the product locator on their website for a store near you that carries Jones products.
Ingredients
1 28-ounce package frozen cubed hash browns with peppers and onions, thawed
1 pound Jones Dairy Farm Dry Aged Bacon, cooked and chopped
2 cups shredded medium cheddar cheese
12 large eggs
1/2 cup whole milk
1 teaspoon garlic powder
1 1/2 teaspoons kosher salt
1 teaspoon fresh ground black pepper
Directions
Preheat oven to 375°F and butter 9×13-inch baking pan.
In large skillet over medium heat, cook sausage until browned, crumbling it with a spatula as it cooks.
Add hash browns, sausage, bacon and cheese to casserole dish. Toss to combine.
In large bowl combine eggs, milk, garlic, salt and pepper. Whisk until completely combined. Pour egg mixture over hash brown mixture.*
Bake for 35–40 minutes until a knife inserted in the center comes out clean.
*To make ahead of time, follow steps up to this point, then refrigerate overnight. The next morning, allow casserole to sit on counter for about 30 minutes before baking.

PERMALINK
TAGS: LUNCH, DINNER, BREAKFAST



Butternut, Apple and Chicken Sausage Hash
September 9, 2022
You'll love this sweet and savory butternut squash hash with chicken sausage and apples. Made with certified gluten-free sausage links from Jones Dairy Farm, this recipe is ideal for an autumn weekend brunch or breakfast for dinner! Recipe is courtesy of Michele from Paleo Running Momma.
Ingredients
4 cups butternut squash, cubed about 1 inch
2 tablespoon ghee or preferred cooking fat, melted
1 package Jones Dairy Farm chicken sausage links, cut into bite size pieces
1 large apple, chopped; honeycrisp or pink lady work best
1 medium onion, chopped
1/2 teaspoon cinnamon
1 tablespoon minced fresh poultry herbs, plus more for garnish
4 eggs
Sea salt
Salt and pepper to taste
Directions
Preheat oven to 425°F and line a large baking sheet with parchment paper.
In large bowl, toss butternut squash cubes with 1 tablespoon of ghee. Evenly coat with sea salt and spread into single layer on baking sheet.
Roast in oven 25–30 minutes, or until golden brown and soft.
Meanwhile, heat large cast iron skillet (or heavy nonstick skillet) over medium high heat. Once hot, add remaining tablespoon of ghee.
Add chicken sausage and cook, stirring 2 minutes or until brown.
Add onions and reduce heat to medium. Cook and stir until onions are translucent and sausage is toasty.
Add apples, cinnamon, herbs, salt and pepper. Stir until apples are soft, about 2–4 minutes.
Turn off heat and once the butternut squash is roasted, gently fold into mix (drain excess grease first, if desired).
Create four indents in hash and carefully crack one egg into each groove.
Sprinkle eggs with salt, pepper and additional herbs, then cover and return skillet to medium heat.
Cook until eggs are cooked to preference, 5–10 minutes.
Serve right away and enjoy!
PERMALINK
TAGS: RECIPES OF THE WEEK, LUNCH, DINNER, DAIRY-FREE, BREAKFAST



Garlic Shrimp and Sausage Skillet
May 19, 2022
Recipe courtesy of Jones Dairy Farm and Rena from Healthy Fitness Meals
Start the summer season right with this shrimp and sausage skillet featuring summer squash!
This recipe is made with all-natural, certified gluten-free Jones Dairy Farm Turkey Sausage Links.
Ingredients:
1 package (7 oz) Jones Dairy Farm Turkey Sausage Links, chopped
1 pound raw shrimp, peeled and deveined
1 medium green zucchini, sliced
1 medium yellow zucchini, sliced
1 small onion, chopped
1 small red bell pepper, chopped into chunks
2 tablespoons olive oil, divided
1 tablespoon garlic powder
1 tablespoon mild paprika
2 tablespoon fresh parsley, chopped (plus more to garnish)
Salt and pepper to taste
Directions:
Place shrimp in small bowl and mix in one tablespoon olive oil, salt, pepper and paprika.
Add shrimp to a large skillet over medium heat. Cook 2-3 minutes on each side. Remove shrimp and set aside.
Using the same skillet, add one tablespoon of oil, turkey sausage, and onions. Toss together for about two minutes.
Add bell pepper, zucchini, parsley, garlic powder, salt, and pepper to taste. Cook for three minutes until zucchini is tender and cooked through.
Add cooked shrimp back in. Toss for another two minutes.
Garnish with fresh parsley and serve. Enjoy!
PERMALINK
TAGS: LUNCH, RECIPES OF THE WEEK, DINNER, DAIRY-FREE



Grandma's Noodle Kugel
March 29, 2022
Kugel, a sweet, egg noodle casserole, is a common sight at any Jewish party. Try making this for your next holiday event, Jewish or not.
Ingredients
½ stick butter or margarine
½ pound gluten-free lokshen (egg noodles)
3 eggs
3 cups milk
1 small carton cottage cheese
½ cup sour cream
2 teaspoon sugar
2 teaspoon cinnamon
1/3 cup raisins
Directions
Preheat oven to 375°F.
Cook noodles and drain.
Separate 3 eggs and beat yolks, reserving egg whites.
In a separate bowl, whip egg whites until stiff.
Melt butter or margarine in baking pan.
Combine noodles with egg whites, cottage cheese, sour cream, sugar, cinnamon and raisins in baking pan.
Stir in milk and fold in egg yolks.
Bake 60 minutes.
Let stand 15 minutes. Can be served warm or cold.
PERMALINK
TAGS: HOLIDAY, DINNER, DESSERT



Cranberry-Glazed Sausage, Apple & Sweet Potato Meatballs
November 15, 2021

Recipe courtesy of Jones Dairy Farm 
The best meatball appetizers deliver the right blend of sweet and savory, and these tasty treats fit the bill.
This recipe is made with a certified gluten-free Jones Dairy All Natural Sausage Roll.
Meatball Ingredients:
1 pound ground turkey
1 cup sweet potato, shredded
1 cup apple, shredded
1 egg
2 tablespoons fresh parsley, chopped
1 tablespoon dried onion flakes
1/8 teaspoon pepper
1/8 teaspoon salt
Glaze Ingredients:
4 cups cranberry juice cocktail
1/3 cup sugar
Directions:
Preheat oven to 375°F. Grease baking sheet and set aside.
In medium bowl, combine all meatball ingredients and mix thoroughly.
Form about 25 cocktail-sized meatballs and place on prepared baking sheet.
Bake meatballs for 18 minutes or until cooked through.
While meatballs are baking, prepare sauce: in medium saucepan over high heat, combine cranberry juice cocktail and sugar. Bring to a boil, then reduce heat and simmer until reduced to a syrupy consistency that will coat the back of a spoon.
Pour sauce over cooked meatballs and stir, coating meatballs completely with the sauce.
Serve with toothpicks.
PERMALINK
TAGS: APPETIZERS/SNACKS, RECIPES OF THE WEEK, THANKSGIVING, HOLIDAY, DINNER