How to Make Gluten-Free Sourdough Starter & Bread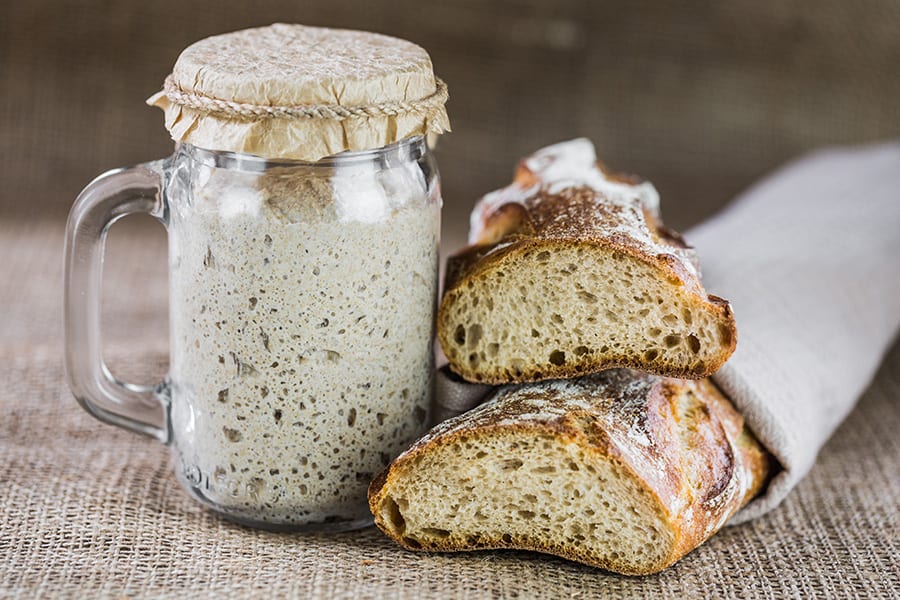 If you have gluten-free flour and water, you have what you need to create your own sourdough bread starter!
Before starting, special note: There is some misinformation online about any sourdough being okay for people with celiac disease and gluten sensitivity. There is no research that supports that. While the natural bacteria may make it easier to digest, it doesn't render it gluten-free.
If you have celiac disease or gluten sensitivity, be sure that you use gluten-free flour for the starter and gluten-free ingredients for all of the baked goods you plan to use your gluten-free sourdough starter in.
What is Sourdough Starter?
Sourdough bread starter is an ingredient needed to create sourdough bread. Think of it as a naturally occurring yeast that replaces packaged yeast and creates the "rise." It is a naturally fermented element that, because it releases gases—like bubbles in beer—it expands your bread and makes air pockets characteristic of sourdough. The tangy taste of sourdough is a result of the fermented sourdough starter.
Once you create the starter, you can add it to flour and other ingredients to make your own home baked gluten-free sourdough bread. It doesn't require anything other than gluten-free flour, water and salt. Other ingredients may be added to create a flavor you like.
To get started, you'll need to spend a few minutes a day for seven days. Then you'll be able to maintain it by "feeding" it more flour and water as necessary.
---
Step by Step Gluten-Free Sourdough Starter
Follow along with Claire Baker, Beyond Celiac director of communications. A total novice with sourdough, she hopes that her online research and the random flours she has in her house* will be just the ticket to inspire you to start mixing!
*While complying with Pennsylvania's Stay at Home COVID-19 order, Claire will use what's she's got on hand and do her best to conserve her gluten-free flours.
Sourdough Starter Recipe
Day 1:
Combine ½ cup of gluten-free flour and ½ cup spring water in a container that's big enough for you to add to later. 
Stir until combined.
Cover with a cloth and leave out on the counter
Day 2:
12 -24 hours after Day One (plan for 2 additions of flour a day at regular intervals. For ease, we'll say "morning' and "evening")
Morning: Add ½ cup GF flour and ½ cup spring water to the mixture from Day 1. Cover and let rest until evening. 
Evening: Repeat.
Day 3:
Repeat Day 2. By the end of Day 3, you may be seeing bubbles (this is good!), and some liquid (called hooch) may have formed on the top. You can either mix in the hooch or pour it off the top. Put a piece of tape on your jar after the evening feeding to mark how much it may grow before the Day 4 morning feeding.
If your container starts to get too full, you can divide and nurture two batches, take some out and pan fry it to eat (see Claire's pizza video below!) or discard.
(Music in video by King Margo.)
Day 4 – 7:
Repeat Day 3.
As the days go on, if the bubbling seems to decrease, you may need to add a 3rd feeding a day. You can expect that the mixture will start to smell sour. Not a surprise, given the name.
Hopefully, the starter will look airy and it will not smell too strong.
You will know if your starter is ready to use if you can hear the bubbles popping when you uncover it.
---
Beyond Celiac Gluten-Free Sourdough Bread Recipe
Ingredients:
½ Cup Sourdough Starter

2 Tablespoons + 2 teaspoons spring water

1 Egg

1 ⅛ Cups measure-for-measure gluten-free flour blend (which includes xanthan gum already)

½ Tablespoon sugar

¼ Tablespoon salt

1 Tablespoon + 1 teaspoon oil
Directions:
Whisk together the starter, water and egg.

In a separate bowl, combine dry ingredients well.

Stir oil into the dry ingredients and mix until combined.

Pour the wet ingredients into the flour and oil mixture, stirring briskly until well-blended. Form into a ball. It will be pretty wet and sticky but will hold its shape.

Cover the bowl with a cloth and let rest in a warm area for 6 – 8 hours.

Line a baking sheet with parchment paper. Dust the parchment paper lightly with gluten-free flour.

Gently move your ball of dough (less wet now, but still sticky, so lightly dust your hands/spatula with gluten-free flour to minimize sticking) to your parchment paper-lined baking sheet.

Preheat your oven and a dutch oven (or oven-safe dish and lid) to 500 degrees. If you don't have a lid, use foil.

Gently slash the top of your bread with a sharp knife. Lift it by the edges of the parchment paper and set the parchment paper and dough ball into the dutch oven. Cover and bake for 15 minutes.

Reduce oven temperature to 450, uncover, and bake for 20 more minutes until the crust is golden brown with peaks a little darker, the crevice from the slash a little lighter.

Remove from the oven, lift by the parchment paper out of the dutch oven and onto a cooling rack. Remove and discard the parchment paper.

Let the bread cool completely before slicing.

Claire's Gluten-Free Breakfast Casserole