Healthcare disparities may contribute to underdiagnosis of celiac disease
October 31, 2023
Study presented at DDW shows impact of race, income and address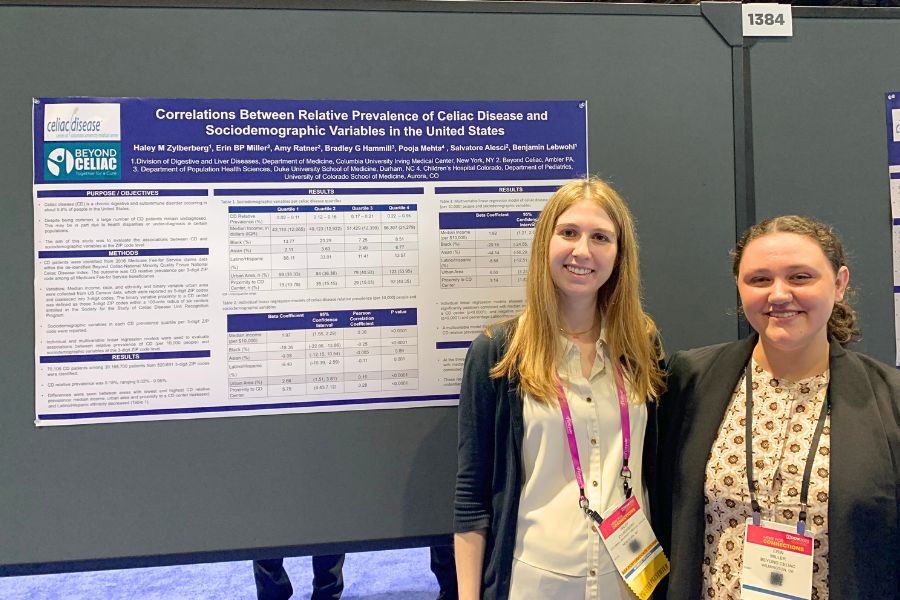 By Amy Ratner, director of scientific affairs
Update: In October 2023, this study was published in the American Journal of Gastroenterology as a research letter. You can read it here.
A higher income, living in an urban area and living close to a celiac disease center are all positively correlated with celiac disease prevalence, while being Black or Latino/Hispanic is negatively correlated, according to a poster presented at Digestive Disease Week (DDW) by Columbia University and Beyond Celiac.
"These results suggest that disparities in healthcare access may contribute to the underdiagnosis of celiac disease, particularly among the non-white population in the United States," the analysis of data compiled by Beyond Celiac and the National Minority Quality Forum (NMQF) found.
Analyzing the Data
The poster, presented by Haley Zylberberg, MD, a gastroenterology fellow at Columbia University who analyzed the NMQF data, was based on 2016 Medicare claims data at the three-digit zip code level. The analysis divided sociodemographic variables – median income, race, urban areas and proximity to a celiac disease center into four equal groups, or quartiles. Likewise, the percentage of celiac disease relative prevalence was divided into four increasing groups, ranging from .02 percent to .95 percent.
The results showed that as the median income increased quartile by quartile, so did the prevalence of celiac disease.
Meanwhile, the percent of Latino/Hispanics with Medicare claims for celiac disease decreased the as percentage of relative celiac disease increased. For Black people, this was also largely true. The data analysis was designed to evaluate the associations between celiac disease and sociodemographic variables at the zip code level.
Our Ongoing Support of CD Research
The poster is one of two with ties to Beyond Celiac being presented at DDW. The other, based on a qualitative study of responses from adults who participated in surveys in the Go Beyond Celiac patient registry, details how frustration and distress about symptoms lead most people with celiac disease to seek a diagnosis. It was presented by Erin Miller, MPH, Beyond Celiac associate science project manager.
DDW is the largest international gathering of physicians, researchers and academics in the fields of gastroenterology, hepatology, endoscopy and gastrointestinal surgery. NMQF is a national research and educational organization dedicated to ensuring that high-risk racial and ethnic populations and communities receive optimal health care.
This is the second year that data analysis based on the Beyond Celiac/NMQF project has been presented at DDW. In 2022, preliminary analysis and mapping of claims showed someone's race and ethnicity and what part of the United States they live in can affect whether they are diagnosed with celiac disease. More than 70,000 Medicare beneficiaries had at least one celiac-disease-related claim in 2016.
These beneficiaries were located primarily in the Northeast and Midwest. Meanwhile potentially undiagnosed celiac disease, based on beneficiaries with combined claims for irritable bowel syndrome (IBS) and anemia, showed the opposite geographic distribution, with beneficiaries primarily located in the South and East. Nearly 11,000 Medicare beneficiaries had these combined claims.