Is Candy Gluten-Free?
Some candies are gluten-free while others are not. Some may have no gluten-containing ingredients but still not be safe for those with celiac disease due to cross-contamination on manufacturing lines. Some mini versions of products have different ingredients from the original size. It's always best to read labels and check regularly, in case ingredients or facilities have changed. If you're unsure, contact the manufacturer directly.
Note: Beyond Celiac is a US-based company, therefore this list is primarily for those buying candy in the US. Some candies may be produced in different ways in different countries. This list is updated infrequently, so it's always good practice to double-check with the manufacturer.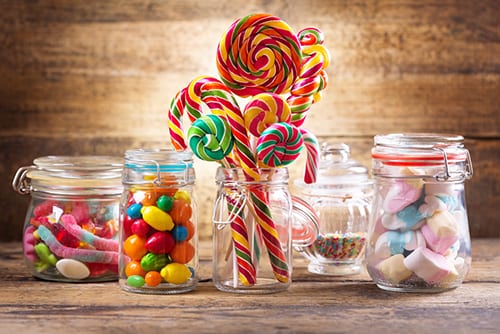 Gluten-Free Candy by Maker
Hershey
Hershey keeps an updated list on their website. Their gluten-free candies include:
Almond Joy – all except Almond Joy Pieces candy
Heath

Hershey's milk chocolate kisses

Hershey's milk chocolate bars (1.55oz only)

Milk Duds
Mounds
Payday

Reese's Peanut Butter Cups – all except seasonal shaped items

Rolo Caramels in Milk Chocolate Candies – all except Rolo Minis

York Peppermint Patties – all except York Pieces Candy, Sugar Free Peppermint Patties, York Minis, and York Shapes (5 oz.)
Hershey candy that does not contain gluten but is not explicitly gluten-free includes:
Hershey candy that contains gluten includes:
Twizzlers
Kit Kat
Whoppers
Mars Wrigley
Mars Wrigley does not specifically label any of their products gluten-free, but state that they will include any gluten-containing ingredients on their labels. The following Mars candies have no gluten-containg ingredients:
M&Ms (except pretzel, crispy, and potentially seasonal items)

Milky Way

Caramel Bars (not the original Milky Way Bar)

Snickers Bars

3 Musketeers
Dove Chocolate products (all flavors except milk chocolate cinnamon graham/cookies and cream, and some holiday varieties, such as milk chocolate truffles)
Lifesavers (gummies, hards, and mints)
The following Mars products, among others, are not gluten-free:
Twix
Maltesers
Mars Bars (does not contain wheat, but does have barley malt)
Nestlé
Nestlé calls out a few of their candies as being gluten-free, these include but are not limited to:
Butterfinger Bars, fun size

Butterfinger Bars, single

Goobers

Raisinets
They also have candies with no gluten-containing ingredients, but not labeled gluten-free, including:
Baby Ruth
Oh-Henry!
Sno-caps
Pixy Stix
The following Nestle products, among others, are not gluten-free:
Ferrara
Ferrara says on their website: "For every Ferrara product that contains allergens, we list a CONTAINS statement […] If there is no CONTAINS statement following the ingredient list, then the product has no allergens. Additionally, Ferrara uses a MADE IN statement, which reflects any allergens within the manufacturing facility where the product is made out." However, they do not keep a list of gluten-free candies on their website.
Candy from Ferrara that does not have gluten-containing ingredients include:
Laffy Taffy
Jujyfruits
Brach's Naturally-Flavored Candy Corn (labeled gluten-free)
Trolli gummy worms
Sweet Tarts (original and chewy)
Gobstopper
Enjoy Life
Enjoy Life has a range of chocolate bars that are gluten-free including:
Enjoy Life Dark Chocolate Bar
Enjoy Life Ricemilk Chocolate Bar
Enjoy Life Ricemilk Crunch
Enjoy Life Winter Dark Chocolate Minis
Mondelez
Mondelez has candy that does not use gluten-containing ingredients, but they do not always use dedicated lines. If a candy was not produced on a dedicated line, it should say that on the packaging. Candies without gluten-containing ingredients include:
Swedish Fish
Sour Patch Kids
Other
Additional gluten-free candies include:
Mike and Ike
Kerr's Fiesta Pops
Tootsie Rolls
Junior Mints
Tootsie Pops
Jelly Belly Beans
Dots
Charleston Chew
Smarties
Skittles
Starburst
Atomic Fireballs
Lemonhead
Red Hot's
Tic Tacs
---
To learn more about gluten and candy, please watch the recording of our Facebook Live video, where we discuss gluten-free Halloween candy and chocolate bars: