September 2012


COLUMNS

Tid Bits with Turbin
HEALTH/WELLNESS

Health Hero Challenge
FOOD/LIFESTYLE

Ask Mary
COMMUNITY

You Did It!
NEWS & UPDATES

Coming Attractions
Contact:
Alicia Carango
Communications Assistant
[email protected]
CONNECT WITH NFCA:
NFCA Founder & President
More Than a Fundraiser
When I first founded the National Foundation for Celiac Awareness, the team and I tried to come up with different ideas of how to fundraise to support our programs and services. We started out with yoga events and even threw a Halloween party, but we needed something bigger. We needed something to really put celiac disease and the gluten-free diet in the spotlight. That's when the Gluten-Free Cooking Spree (now Appetite for Awareness) was born.
The idea was to get doctors and chefs to put their gluten-free knowledge to the test and discover what they did (and more often, didn't know) about celiac disease and gluten-free needs. The event was loaded with trivia, giveaways, cooking demos and competitions. Everything centered on celiac disease and the gluten-free diet. While at the Cooking Spree, I shared my story of diagnosis. I told everyone about my miscarriages, how my hair was falling out, how I had a mouthful of cavities, painful migraines and dwindled to just 100 pounds while standing at 5'9".
I'll never forget the man who came up to me after I had told my story. He was a local chef and he had tears in his eyes. He told me that he had no idea how serious celiac is and what it could lead to. He didn't know that, as a chef, he, his restaurant and all food establishments were the gateway to our "medication"- the gluten-free diet. He swore that he would be dedicated to safely serving gluten-free food, beyond just cooking with gluten-free ingredients. He would train his staff to prevent cross-contamination and be mindful of the risks that any contact with gluten can cause to those with gluten-related disorders.
I was reminded of this man after our recent webinar, "Cross-Contamination in Restaurants: What You Need to Know." Unfortunately, not all chefs and restaurants are aware of the serious risks of cross-contamination…yet. Together, we can make it happen.
Here are some highlights from the webinar on how to talk to your local restaurants about the risk of cross-contamination. By talking about it and educating your local restaurants, you're not only protecting yourself, but also making strides towards awareness for the entire gluten-free community.
A special thanks to Ken Schelper, Amy Jones, MS, RD, LD, and Pam Cureton, RD, LDN, for sharing their expertise!
Be clear that you have a medical need.
Briefly explain why you cannot eat gluten and that you will get sick. This will grab the server's attention and help them understand why you are asking questions about the menu.
Ask questions. Then, ask more questions.
Even if the restaurant has a gluten-free menu, ask about their ingredients and preparation practices for preventing cross-contamination. Be specific and clarify your needs.
Carry a gluten-free dining card.
Bring a list of common gluten-containing foods and ingredients so you can remind the server and chef of what's off limits.
If it's not safe, send it back.
If the server brings you something that you know is not safe to eat, politely explain why and send it back to the kitchen. If, for example, your meat comes with a gluten-containing garnish, consider cutting the meat so you can ensure they're not bringing you back the same meat with the garnish removed. Or, hold onto the dish until they bring the new one out.
Be sure to download the webinar recording for more ways to avoid cross-contamination in restaurants. Remember, you'll be helping yourself and your fellow gluten-free diners by asking questions and ensuring restaurants are doing it right. You can even refer your favorite restaurants to NFCA so they can be trained in gluten-free.
Cheers,
Alice Bast
---
---
Gluten-Free Social Networking: Does It Benefit Celiac Kids?
By Miranda Jade Turbin
An important way to deal with the challenges and demands of celiac disease and the gluten-free diet is connecting with others. It used to be that the way to do this was through joining a local support group, but now we have social networking websites designed just for gluten-free people. Most of these websites are designed for adults with celiac, but your child can benefit from some of them, too.
Cilie Yack's Sous Club for Kidsis designed specifically for kids as an online social networking and cooking club where they can share recipes and interact with other celiac kids or kids with food allergies. The Kids with Food Allergies Foundation also offers a social networking feature on its website for gluten-free families. You and your child can use this website together to find other gluten-free families in the area, schedule play dates with other celiac kids, and set up local activities like a gluten-free cooking club that your child can participate in. The National Foundation for Celiac Awareness also has a section called Kids Central where kids can share their story, print educational games and find kid-friendly recipes.
If your child is too young to use social media sites, you can sign up as the parent of a gluten-free child and learn valuable information and recipes to help keep your child gluten-free, healthy, and happy. When your child gets old enough, in his or her teenage years, he or she can join these websites, too.
Gluten Free Faces is a free community with more than 10,000 users dedicated to being gluten-free. As with other social networking sites, it's free to join and users can participate in discussions, upload photos, write journal entries, start a poll, chat with other members, and find helpful articles. Some social networking websites have contests and giveaways as well which you and your gluten-free child can participate in. You can get so much out of these websites that can help you raise your celiac child!
Note: NFCA is launching a gluten-free social media community on Inspire.com, including a special section about raising gluten-free kids. Visit the Celiac Disease Support Community.
Here's a recipe for a healthy and fun recipe to share with your new friends on social media:
References
Facebook: Statistics

Gluten Free Betsy: Gluten Free Social Networking

Gluten Free Faces

Social Media Today: How Many Users Does Twitter REALLY Have?

The Savvy Celiac: Celiac Community Loves Social Networking
About Miranda Jade Turbin
Miranda Jade Turbin became extremely interested and involved in the subjects of celiac disease, gluten sensitivity and gluten issues a number of years ago, after being diagnosed as celiac after many years of unresolved troubles. Since then, she has engaged in diligent research and writing about these topics, developing gluten-free recipes and reviewing companies for celiac consumer safety at the award-winning website: GlutenFreeHelp.info.
Related Content:
---
Gluten-Free Recipes for Back to School
By Chef Oonagh Williams
Back to school is here again and these recipes are great for the kids.
Rice is naturally gluten-free, but I make this with quinoa for more protein and nutrition. You can also use brown rice instead of white rice for better nutrition.

GLUTEN-FREE CHUNKY PEANUT BUTTER AND OATMEAL COOKIES
I adapted this recipe to gluten-free, reduced the sugar, increased the chocolate and added nuts. The recipe calls for certified gluten-free oats. If you cannot tolerate any oats, try substituting with quinoa flakes.
About Chef Oonagh Williams
British-born award-winning chef Oonagh Williams has a culinary arts degree and was trained in London and Switzerland. Based in New Hampshire, Chef Oonagh began adapting meals to gluten-free versions after her son was diagnosed with gluten and lactose intolerance two years ago. To learn more, visit Chef Oonagh's website at www.RoyalTemptations.com or 'Like' her at Gluten Free Cooking with Oonagh on Facebook.
Related Content:
---
---
Help Us Make Alice a Health Hero!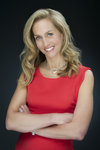 Alice Bast has been named a semi-finalist in the Be Well Philly Health Hero Challenge. We need your help to take her all the way!
This is the first ever Health Hero Challenge hosted by the Philadelphiamagazine's health and wellness blog. Philly locals were asked to nominate individuals actively making a difference in the health of the community. Alice and 15 others have been officially announced as Health Hero semi-finalists.
The winner of the Health Hero challenge will be based on a nationwide vote. You can vote for Alice during the week of Sept. 11-17. If she earns the most votes during her week, she'll move on to the finals!
Not in Philly? Don't worry! Voting is not exclusive to Philly locals. Anyone can check out Be Well Philly on Facebook and cast their vote.
Congratulations, Alice, and good luck!
---
By NFCA Staff
Since we launched NFCA's Facebook page in May 2009, we have loved connecting with each of you on a daily basis. Now, we are excited to launch a new opportunity to share your experiences and connect with others: NFCA's Celiac Disease Support Community on Inspire.com.
This new forum offers a place to start conversations, join discussions and meet others affected by gluten-related disorders. You can also launch your own online journal, so you can share experiences and updates with family, friends and other community members.
The NFCA team looks forward to helping this online community grow, which we'll start by posting a weekly discussion topic each Monday. Overall, our goal is to help you connect with each other and build new relationships in the community.
We hope you'll join us in the new online Celiac Disease Support Community. Take a look and set up your profile today!
Volunteers Needed
The NFCA team is looking for a few volunteers to help us facilitate discussions on Inspire.com. If you are interested, please contact Cheryl McEvoy at [email protected].
---
By Christina Terese Gentile, MA, CWC
"Wellness" is an active and dynamic process of change and growth that contributes to optimal health. It involves more than the absence of disease and illness. Wellness is the integration of the body, mind, and spirit. A healthy diet is one of the essential ingredients to achieving wellness. Improvements or modifications in the gluten-free diet may positively influence physical, mental, and social health. This article will focus on the connection between nutrition, mental health, and emotional wellness.
---
---
Have you ever wondered who's behind some of your favorite gluten-free product? This month, you'll get to know one of them.
Mary Waldner is the chairman and founder of Mary's Gone Crackers, which makes a line of organic, gluten-free and vegan crackers, cookies, pretzels and "Crumbs." Mary started the company after she was diagnosed with celiac disease and started making her own gluten-free crackers from scratch. Her company focuses on "conscious eating," but we'll let her tell you more about that.
Starting next Monday, September 10, we'll spend 2 weeks getting to know Mary. Each weekday, she'll answer a question in our special "Ask Mary" section on beyondceliac.org. Then, on Thursday, September 20, Mary will join NFCA for a live, hour-long Q&A on our Facebook page.She'll answer your questions about the gluten-free lifestyle and how we all can be more conscious eaters.


Here are the details:
Includes weekly gluten-free giveaways!
Live Facebook Q&A

Date: Thursday, Sept. 20, 2012
Time: 1 p.m. ET/10 a.m. PT
Where: NFCA on Facebook
---
Have you checked out our Gluten-Free Recipe Box featuring recipes from Allergic Living magazine? This month, our featured recipe is Curried Butternut Squash Soup, courtesy of Allergic Living Food Editor Simon Clarke. This is a warming soup with a smooth and creamy texture (without any cream!). Check out the recipe for Pastry-Free Veggie Pot Pie, too.
---
---
Did you know every NFCA webinar recording is saved and archived so you can access it 24/7?
The August 2012 webinars are now available in the archive for instant download:
Back to School: Preparing to Educate School Administrators on the Importance of Gluten-Free
Even if your gluten-free kid is back to school already , it's not too late to benefit from the webinar. Learn the ins and outs of talking to school administrators to help them accommodate your gluten-free kid's dietary needs from expert Gabriela Pacheco, RD, LD, SNS, School Nutrition Consultant. Brought to you by Mary's Gone Crackers.
Visit NFCA's webinar archive to download and watch the webinar.
Cross-Contamination in Restaurants: What You Need to Know
Based on questions and concerns from the gluten-free community, this webinar featured industry experts who discussed a wide range of topics including interpreting menu disclaimers, where cross-contamination can occur, overlooked sources of gluten, tips for dining out and more. Brought to you by a generous anonymous donor with a passionate interest in health and wellness.
Visit NFCA's webinar archive to download and watch the webinar.
---
In just two short weeks, Athlete for Awareness Peter Bronski will be taking on the 3rd Annual Gluten-Free Ultramarathon benefiting NFCA. The Ultramarathon is a grueling 50-mile run with 10,000 feet of vertical gain (or as Pete puts it, roughly running back-to-back marathons, off-road, while climbing to the top of the Empire State Building eight times). And he's doing it all for YOU.
Peter is working to raise $5000 this year in support of NFCA. That's $100 per mile he runs. All funds raised from Peter's efforts will directly support NFCA's free patient programs and services.
Good luck, Pete! NFCA thanks you for your support. You can visit Peter's fundraising page on FirstGiving.com.
---
---
Last fall, NFCA launched our first ever "kids only" fundraiser: Awareness All-Stars. Our enterprising young participants raised
nearly $10,000, and we're excited to see what they accomplish this year!
We are once again hosting the fundraiser through Firstgiving.com/celiacawareness, which allows your child to share his or her personal story and accept donations through a safe and secure online platform.
NFCA will launch the 2nd Annual Awareness All-Stars Fundraiser on Sunday, September 23, at Appetite for Awareness, our signature gluten-free event. Parents and kids will be able to pick up information about Awareness All-Stars in the Children's Pavilion and at NFCA's main information table.
For those who cannot attend Appetite for Awareness, we will launch the online details on the morning of September 23. Watch our Facebook page for the link!
---
Special Gluten-Free Dinner from "Next Iron Chef" Contestant: September 13, 5:30-11 p.m., NYC


GREAT Kitchens Chef Ambassador Jehangir Mehta is preparing a special gluten-free dinner in honor of Celiac Awareness Day on September 13th. Chef Jehangir was the runner up in Season 2 of the Food Network's "Next Iron Chef" and will compete again in "The Next Iron Chef: Redemption," premiering this November.
Enjoy a 5-course gluten-free dinner with wine pairings at this special event. Chef Jehangir will donate 20% of all pre-tax proceeds to NFCA.

When: Thursday, September 13, 2012
Time: Dinner hours (5:30-11 p.m.)
Where: Mehtaphor Restaurant
130 Duane Street
New York, NY 10013
Cost: $110 per person
See more details in our event listing.
Appetite for Awareness: Sunday, September 23, 1-5 p.m., Philadelphia
The National Foundation for Celiac Awareness invites you to attend our signature gluten-free event. This year, we're hosting it at the Historic Strawbridge Building at 8th and Market Streets in the heart of Philadelphia.
Highlights include:
Gluten-Free Cooking Spree: Philly's Top Chefs sampling gluten-free delights from their restaurants serving with the Philadelphia area's Top Docs.
Chef demos in front of the Grand Staircase
Gluten-Free Vendor Marketplace with tons of tasty samples
Children's Pavilion with kid-friendly gluten-free food and fun
Beer Garden with flat-screen TVs (Watch the Phillies game!)
The opportunity to win a 1-year lease on a new Mercedes-Benz from Mercedes-Benz of Fort Washington and Mercedes-Benz of West Chester
One ticket price gets you in the door, with unlimited gluten-free food and drink, an abundance of free samples and a reusable shopping bag.
Visit the event page for more information.
---
LaRosa's Pizza Goes Gluten-Free
Kings Island boasts the largest amusement and waterpark in the Midwest. Now, they can boast gluten-free options for celiac and gluten sensitive thrill-seekers, too.
With many satellite locations, LaRosa's Pizza, a popular pizza place in the Midwest, is just one of the many dining options at Kings Island, located in Ohio. Recently, the corporate office of LaRosa's reached out to NFCA's Director of Gluten-Free Industry Initiatives Beckee Moreland to learn more about gluten-free cooking.
LaRosa's completed online gluten-free training through NFCA's GREAT Kitchens program. Now, the staff is prepared to take on gluten-free needs.
"In order to deliver on Kings Island's mission on providing the best-day-of-the-year to all of our guests we decided to partner with LaRosa's to deliver their gluten-free products in the park," said Alex Hancock, Area Manager of Food and Beverage Operations for Kings Island. "We started offering both cheese and pepperoni gluten-free pizzas at one of the largest locations in the park. The logistics and management of the product took a lot of planning and preparation on behalf of our management team, but the results couldn't have been better. Our guests have responded well, demand for the product is high and guests have left positive comments about the availability of gluten-free items."
"It was a pleasure working with LaRosa's," Beckee added. "They understood the importance of offering gluten-free options to their customers and wanted to do everything in their power to ensure they are serving it safely."
The LaRosa's location in Kings Island Amusement Park is just one of the several LaRosa's locations that are now trained by NFCA's GREAT Kitchens program. For a list of GREAT trained restaurantsthroughout the U.S., visit beyondceliac.org/kitchens.
---
By Alicia Carango, NFCA Communications Assistant and Kristin Voorhees, NFCA Healthcare Relations Manager
Better 4 U Foods Roasted Vegetable Pizza
Thick pizza crust lovers, rejoice! Better 4 U Foods has a gluten-free pizza with a thick crust and plenty of toppings to go around. I tried out the Roasted Vegetable and this one is a new personal favorite. It's gluten-free, vegan and dairy-free and is still packed full of flavor. I love a crunchy pizza, so I baked this in the oven directly on the rack and got the yummy crunch I was looking for. The pizza is a perfect sharing size, so I (reluctantly) shared with a friend. Her response? "What do you mean this is gluten-free?" You can get other varieties and thin-crust options at www.Better4UFoods.com.
-AC
Caesar's Stuffed Shells
There aren't many gluten-free stuffed shell options out there, so Italian cuisine lovers will be happy to know that Caesar's stuffed shells are highly comparable to their gluten-containing counterparts (including the fat and calorie content). Being spoiled by my mom's homemade sauce (or as we call it at home, gravy), I find packaged or jarred sauces tend to be too sweet or always missing that something, but Caesar's is pretty good as far as premade sauces go. The shells don't get gummy and maintain a nice consistency after they're cooked. They're packed with flavor and were a hit with NFCA staff. Caesar's has a whole line of gluten-free pastas, all of which consistently test at under 5 ppm. See what else Caesar's is cooking up at www.CaesarsPasta.com.
-AC
Matcha Marketplace Oatmeal
Having always been a fan of oatmeal, I was excited to re-introduce gluten-free oats back into my diet this past spring and I now enjoy all opportunities to taste-test any new gluten-free oat products on the market. I tried out the Blueberry Coconut flavor from Matcha Marketplace. I will admit I was unsure how the matcha ingredient would taste, but I enjoyed the grassy, earthy flavors that added to two of my favorite ingredients. I mixed it with milk, always a go-to instead of water, and really enjoyed it as a late morning snack. It added a nice balance to the sweetness of the blueberries and coconut. It gets a thumbs up in my book! Check out all the flavors (made with Bob's Red Mill gluten-free oats) at www.MatchaMarketPlace.com.
-KV
Easy Eats Magazine- Free Subscription Option
Easy Eats is a digital magazine that focuses entirely on eating gluten-free. Working under the motto "it's good to be gluten-free," Easy Eats shares gluten-free tips, recipes, and personal stories. It used to be available only by paid subscription, but Easy Eats knows that eating gluten-free can be expensive, so they're now offering a free option so everyone can enjoy access to the magazine. Check out their announcement of the free options on the Easy Eats blog.
-AC
---
By Alicia Carango, NFCA Communications Assistant
New App Aims to Make Gluten-Free Shopping Easy
New to the food app scene is The Allergy & Gluten-Free Food Scanner from Fooducate. Based on Fooducate's award winning mobile app, which identifies healthy food choices, the new Allergy & Gluten-Free Food Scanner has been adapted to identify foods containing the top 8 allergies and gluten with just a simple barcode scan. The app features a color-coded warning system, Click-to-Call for dialing manufacturers directly, and 200,000 (and counting) featured products. So far, the reviews are positive.
Read more from Virtual Strategy.
NFCA's Beckee Moreland: "We're at the tipping point in this gluten-free culinary revolution."
NFCA's Beckee Moreland put gluten-free needs in the spotlight in an article featured in the Lincoln Journal Star, which highlighted Beckee's efforts to create safe gluten-free dining options. Beckee, who runs NFCA's gluten-free training program, GREAT Kitchens, shared her own story of diagnosis and why gluten-free protocols are so important to people living with gluten-related disorders. Also featured in the article is former NFCA intern Rhiannon Brown, who is launching her completely gluten-free shop, Eazy Eatz Bakery, this month.
Read more from the Lincoln Journal Star.
Market Research Survey Shows Who's Buying Gluten-Free
The Hartman Group polled consumers on their reasons for purchasing gluten-free foods to find that only 5 percent were making purchases because of celiac disease. The top three reasons reported for purchasing gluten-free foods were for digestive health, nutritional value, and weight loss. Only 11 percent of those polled reported eating gluten-free 75-100 percent of the time. While many are experimenting with gluten-free foods, NFCA emphasizes that the gluten-free diet is a lifelong medical necessity for individuals with celiac disease and other gluten-related disorders, and should be taken seriously by those who serve these individuals.
Read more from the Hartman Group.
Study: For Every 1 Person Diagnosed with Celiac, 5 or 6 Still Undiagnosed
A study conducted by the Mayo Clinic reports that 1.6 million Americans are eating gluten-free without a celiac disease diagnosis. Meanwhile, approximately 95 percent of people living with celiac disease remain undiagnosed.
Read more from Celiac Central.
Alice Bast Shares Personal History of Fertility Challenges
NFCA Founder and President Alice Bast raised awareness of the lesser-known symptoms of celiac disease, particularly reproductive health issues, as she shared her story with Jefferson University Hospital's newsletter, "Keep in Touch." After 23 doctors, three miscarriages, and years of unexplained symptoms, Alice finally received her diagnosis, which led to the birth of the National Foundation for Celiac Awareness.
---