November 2013
November 2013

COLUMNS

Cooking with Oonagh

Thanksgiving recipes
Cook's Corner

Recipe round-up
HEALTH/WELLNESS

Research Opt-In

New feature!
NFCA's Clinical Trials Resource Center
FOOD/LIFESTYLE
Holiday How-Tos

Blogger campaign &
tip series
Voices of Celiac Disease

Video series
NFCA's 10th Anniversary Celebration

Event recap
Allergic Living Sneak Peek

Turkey Tortillas
NEWS & UPDATES

Dining Out
Contact:
Alicia Carango
Communications Assistant
[email protected]
CONNECT WITH NFCA: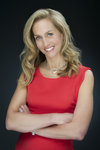 NFCA Founder & President
Gluten-Free Holidays: Resisting Temptation and Avoiding Cross-Contact
Can you believe Thanksgiving is right around the corner already? Soon enough, the parties, cookie exchanges and potluck dinners will be starting. It's a happy and exciting time of year, but people living with celiac disease and non-celiac gluten sensitivity ('gluten sensitivity') know that sometimes the joy of spending time with family and friends can be overshadowed by anxiety and the fear of getting sick.
I know firsthand how tough the holidays can be, especially when a diagnosis is new and the gluten-free diet is still foreign to both you and your loved ones. But, I also know that with preparation and honest communication, people with gluten-related disorders can enjoy the holiday season and eat without fear.
In the 10 years since the National Foundation for Celiac Awareness (NFCA) first opened its doors, I have met so many people on a lifelong gluten-free diet. In that time, I've learned that among the many concerns during the holiday season, three consistently rise to the top: Families that do not understand the need for a gluten-free diet, the fear of accidentally eating gluten and the temptation to cheat on the gluten-free diet.
Helping family understand our needs.
At a time when family is all around us, it's imperative that they understand our dietary needs in order for us to stay well. It is our job to educate our families and explain the seriousness of celiac disease. Unfortunately, not everyone understands our needs. The best we can do is educate our families and offer our help in grocery shopping and preparing the meal. If our family just doesn't "get it," then we need to take our health in our own hands and do what we have to do in order to maintain the gluten-free diet. Don't be afraid to bring your own meal if you have to (or talk to your family about the importance of celiac disease testing).
Fear of "getting glutened."
It's natural to be concerned about accidentally eating gluten during parties, whether it's through a gluten-containing ingredient or cross-contamination. Remember that it is ok to ask questions about food preparation and ingredients. If you're not comfortable and feel as though a food may make you sick, try not to feel bad about skipping it. Your health comes first above all else. As mentioned above, you can always bring your own gluten-free meal to ensure you have safe options. Take advantage of NFCA's printable guide, "Entertaining Gluten-Free Guests," designed to help loved ones navigate the gluten-free cooking process.
Resisting temptation.
I know that it can be easy to be tempted by all the gluten-containing dishes and desserts during the holiday season, especially if a diagnosis is new. It can be hard to resist Grandma's famous stuffing or your aunt's pumpkin pie, but that's where communication comes in. See if you can work together to make a gluten-free version of your favorite dish so you won't feel like you're missing out. Continue to remind yourself how important the gluten-free diet is for your health and well-being. Plus, if we give in to temptation, we could end up being severely sick and unable to join in on the holiday festivities.
I always say "gluten-free" isn't a diet in the traditional sense – it's a lifestyle that we must adhere to for the sake of our health. If we keep that mindset throughout the holidays, we can resist any temptation and ensure we're making good choices.
NFCA is sharing gluten-free holiday tips and how-tos all month long to help you through the holiday season. I invite you to share your holiday tips and fun family stories with NFCA and the community on NFCA's Facebook page.
I hope you all have a safe and happy Thanksgiving and a Happy Hanukkah to those celebrating!
To our GREAT health,
Alice
---
---
Gluten-Free Thanksgiving Recipes
Happy Thanksgiving! In honor of "Turkey Day," I am sharing with you two of my favorite gluten-free twists on classic holiday dishes.
PUMPKIN BREAD PUDDING WITH CARAMEL SAUCE
I saw a version of this recipe in an issue of Bon Appetit.I tried this one out with a group of friends for a potluck-style dinner and boy was it a hit!

CORN PUDDING
This is a simple, yet delightfully delicious dish.
About Chef Oonagh Williams
British-born award-winning chef Oonagh Williams has a culinary arts degree and was trained in London and Switzerland. Based in New Hampshire, Chef Oonagh began adapting meals to gluten-free versions after her son was diagnosed with gluten and lactose intolerance two years ago. To learn more, visit Chef Oonagh's website at www.RoyalTemptations.com or 'Like' her at Gluten Free Cooking with Oonagh on Facebook.
Related Content:
---
Recipe Round-Up: Silvana's Top 5 Gluten-Free Thanksgiving Recipes
By Silvana Nardone
Get your gluten-free cooking and baking questions answered by the expert! Have a question for Silvana? E-mail Alicia at


[email protected]


and your question could be answered in a future NFCA newsletter
Since Thanksgiving is only a few weeks away, I thought I would share a few of my family's favorite gluten-free holiday recipes. Here is my Thanksgiving "recipe round-up":

Gluten-Free, Dairy Free Pumpkin Muffins with Streusel Topping


Perfect for breakfast on Thanksgiving morning.

Creamed Mushroom Soup with Gluten-Free Toasted Herb Croutons


Who needs condensed mushroom soup when you can make this delicious alternative at home?

Gluten-Free Garlic Knots


Filled with garlic-y goodness, no one will know it's gluten-free!

Gluten-Free Mushroom-Rye Stuffing


No Thanksgiving dinner is complete without the stuffing.
Gluten-Free, Dairy-Free Citrus Glazed Pistachio Bread


Whether you make this for Thanksgiving breakfast or dessert, you won't be disappointed.

Enjoy!
– Silvana
About Silvana Nardone

Silvana Nardone is the author of Cooking for Isaiah: Gluten-Free & Dairy-Free Recipes for Easy, Delicious Meals and founder of silvanaskitchen.com, a blog that takes the guesswork out of how to feed a family with food allergies. Join the gluten-free conversation in her Facebook community or follow her on Twitter or Pinterest .
Related Content:
---
At NFCA, part of our mission is to advance research to ensure that people with celiac disease receive an accurate and prompt diagnosis and experience a happy and healthy quality of life once diagnosed. As NFCA strives to increase diagnosis and improve quality of life, it is particularly exciting to have the support of celiac disease patients along with affected families and caregivers, a community who has been so vocal about their interest in learning more about the advances researchers are making in this field. NFCA knows that you and your fellow celiac disease community members have a growing interest in this aspect of our mission — to advance celiac disease research.
With both community interest and celiac disease research evolving so quickly, NFCA wants to make sure that you have the opportunity to participate in cutting edge celiac disease research.
That said, we are excited to introduce you to the newest feature from NFCA: The Research Opt-In.
NFCA encourages you to opt-in today to receive news and updates on current celiac disease research, which will offer new opportunities to contribute to the future of celiac disease.
Examples of research activities may include:
Research studies
Clinical trials
Surveys
Focus groups
Other similar opportunities that aim to advance diagnosis and improve your quality of life
---
NFCA is all about doing our part to help accelerate celiac disease research. This means making sure that the celiac disease community understands how clinical trials work and the benefits and risks of participating in a clinical trial. Today, we are excited to announce that we have partnered with CenterWatch, the leading publisher of information on clinical research for patients and their advocates and healthcare professionals, to launch NFCA's Clinical Trials Resource Center.
As a patient, you have a critical role in the clinical trial process. Clinical trials offer a unique opportunity for patients to "feed" science by helping physicians and researchers learn more about the condition and treatment options being studied. NFCA is committed to bringing you the most up-to-date information and facts about clinical trials so that you can determine if participating in one is the right choice for you.
NFCA encourages you to visit our new Clinical Trials Resource Center regularly to keep up-to-date on clinical trial news in general and specifically for celiac disease.
Here's a snapshot of what you'll find in the resource center:
About Clinical Research
Listing of Clinical Trials, both industry and government sponsored
Email Notification Service
FDA Drug Approvals
New Medical Therapies Trial Results
CenterWatch Research Headlines
If you have questions about this new feature or ideas on how to continue engaging the celiac disease community in this important research process, please email: [email protected].
Related Content:
---
The holiday season is officially upon us – let the gluten-free cooking and baking begin!
At NFCA, we know the holidays can be stressful for people with celiac disease or non-celiac gluten sensitivity ('gluten sensitivity'). That's why we've teamed up with Crunchmaster and gluten-free bloggers to give you tips for maintaining your gluten-free diet throughout the holiday season. Here's what we have planned:
Gluten-Free Holiday Tip of the Day
It's back! Each day, NFCA will share holiday tips from the staff, community members and gluten-free bloggers. From baking and cooking to parties and talking about your gluten-free needs, we've got you covered!
Gluten-Free Holiday How-Tos
We recruited six of our gluten-free blogger friends to share their holiday how-tos with you. With a mix of bloggers focused on lifestyle tips, cooking and baking, we're covering all the bases. We'll unveil one to two posts per week, so keep an eye on the Gluten-Free Holiday How-To page so you don't miss a thing.
Meet the bloggers now!
---
---
Everyone has their own unique celiac disease story and, as you can probably imagine, the NFCA team hears these stories regularly. Much of the staff have their own celiac disease stories, as well, and it is these experiences, coupled with the community's, that drive our passion for increasing diagnoses and improving the quality of life for those on a lifelong gluten-free diet.
In honor of NFCA's 10th anniversary celebration, which took place on October 10, 2013, the team interviewed community members who had a slightly different story to share: a story of how NFCA changed the course of their lives and diagnosis. We are proud to share these voices of celiac disease with you!
---
On October 10, 2013, NFCA celebrated its 10th anniversary at the Arts Ballroom in Philadelphia. During the celebration, NFCA recognized 10 honorees (pictured above) for their leadership, dedication and commitment that have helped NFCA in our work to restore health and reclaim lives.
Thank you to all those who attended and supported the event in Philadelphia! NFCA is grateful for your interest, as well as the support of the gluten-free community we work to serve each day. We couldn't do it without all of you!
We appreciate the support of our many donors and sponsors, including our Title Sponsor Jefferson University Hospital.
For more pictures from the celebration, visit NFCA's Facebook page.
---
---
Gluten-Free Turkey Tortillas
Can't wait for Thanksgiving to have some turkey? Curb your craving with this delicious and easy recipe for Turkey Tortillas.
---
The GREAT Kitchens Gluten-Free Chef's Table Tour is Underway!
Last month, we shared the big news that NFCA's GREAT Kitchens online gluten-free training program would be hitting the road with Chef Jehangir Mehta (Next Iron Chef Finalist) on the GREAT Kitchens Gluten-Free Chef's Table Tour. Now, we're excited to share updates from the road with you.


Chef Jehangir Mehta and NFCA President
Alice Bast
Chef Jehangir Mehta and the NFCA team have been live tweeting, blogging and posting photos to Instagram from the road. The team has met with top chefs, media professionals and popular bloggers in New York City, Portland Oregon and Seattle Washington to raise awareness of the need for safe gluten-free food for the celiac disease and gluten sensitive communities.
Check out the highlights and keep an eye out for updates from the next stop on the tour – San Francisco!
From the NFCA team:
From event attendees:
Be sure to follow NFCA (@CeliacAwareness) and Chef Jehangir Mehta (@jehangir_mehta) for the play by play of the events. Check out the photos of the tour stops on Instagram (warning – food photos may make your mouth water!).
---
---
Central Pennsylvania Gluten-Free Expo
Sunday, November 10, 2013 from 12 p.m. to 5:30 p.m.
National Foundation for Celiac Awareness (NFCA) President Alice Bast will be the keynote speaker at the Central PA Gluten-Free Expo. Come hear Alice speak and enjoy gluten-free samples, meet vendors, attend seminars and get your chance to win some awesome door prizes.

Visit NFCA's Upcoming Events section for more details.

Free Webinar: Holiday Special: Gluten-Free Baking
Wednesday, November 13, 2013 at 8:30 p.m. EST/5:30 p.m. PST
Join NFCA as we host this webinar dedicated to learning how to navigate the winter holiday months, a time when food is the centerpiece. NFCA community members frequently request information on how to bake gluten-free and we couldn't think of a better time to deliver these details! Chef Richard Coppedge, Professor of Baking and Pastry Arts at The Culinary Institute of America and author of Gluten-Free Baking with The Culinary Institute of America, will review gluten-free baking ingredients, such as flours and starches, and discuss how to incorporate them into your holiday baked good recipes. Webinar participants will also benefit from learning about helpful gluten-free baking tips and tried and true gluten-free recipes.
---
Celiac Disease in the News

By Alicia Carango, NFCA Communications Assistant
NFCA Releases the Gluten-Free Labeling Fact Sheet
Following the September 2013 webinar, "Understanding the Gluten-Free Labeling Rule Part 1: What You Need to Know," NFCA addressed frequently asked questions about the ruling with the help of webinar panelist Tricia Thompson, MS, RD; The Gluten-Free Dietitian, Nutrition Consultant Celiac Disease, Founder of Gluten Free Watchdog, LLC.
Learn more and download NFCA's Gluten-Free Labeling Fact Sheet.
Gluten-Free Grocery Shopping Guide from EatingWell.com
Whether you're recently diagnosed or have been gluten-free for years, it's easy to remember the confusion and perhaps frustration of gluten-free grocery shopping for the first time. With input from NFCA President Alice Bast, EatingWell.com put together a helpful guide to the grocery store, from the produce aisle to the deli and beyond.
Check out the Guide to Gluten-Free Grocery Shopping.
NFCA President Alice Bast Talks about 10 Years of Restoring Health and Reclaiming Lives
NFCA's President Alice Bast has been open about sharing her story of diagnosis with the celiac disease community. As the organization celebrated its tenth anniversary in October, Alice shared not only her story, but also talked about NFCA's impact on the lives of people living with celiac disease and other gluten-related disorders.
Read the interview with Chestnut Hill Local.
---
---
By Alicia Carango, NFCA Communications Assistant
Lovely Candy Chocolate Swirl Caramels
If you're looking for something to satisfy your sweet tooth without overdoing it on calories, then Lovely Candy Chocolate Swirl Caramels are for you. With 150 calories for four decent size pieces of candy, you won't feel guilty about this pick-me-up snack. I thought the candies were less sweet than your standard piece of chocolate, but it wasn't a bad thing. There was a slight grittiness to the texture, but I think the sweet caramel flavor overrides that. These candies are certified gluten-free and, if you're looking for non-GMO options, you'll be happy to know this candy meets your needs. Learn more about these candies (and their fruit chew options – great for the kids!) at www.LovelyCandyCo.com.
Pepperidge Farms Mega Cheese Goldfish Puffs
As the manager of NFCA's Facebook page, I often hear from people looking for gluten-free alternatives to their favorite gluten-containing snacks. One of the snacks that pops up most often is by far Pepperidge Farms Goldfish. If you've been on the hunt for a gluten-free version, you'll be thrilled to know they recently released gluten-free Mega Cheese Goldfish Puffs. They certainly live up to their "mega cheese" name and while they don't taste exactly like the traditional Goldfish crackers, they're pretty close. I had seen the Goldfish Puffs in the grocery store, but I actually passed right by them because the "gluten-free" label isn't prominently displayed on the front of the packaging; it was on the back above the nutrition facts and nowhere else. So, if you're looking for the Goldfish, be sure to turn over the package at the store to make sure you're grabbing the right kind. You can also check them out at www.Facebook.com/GoldfishSmiles.
Erewhon Quinoa and Chia Cereal
Erewhon's new Quinoa and Chia cereal is a super-tasty combination that packs a nutritional punch. Chia is somewhat new to my diet, but I'm finding that I absolutely love it in cereal. This Quinoa & Chia cereal is no exception. It has a great crunch to it and it has a nice, subtle flavor. In a way, it reminded me of plain corn flakes; not too sweet with a texture that won't get soggy fast. Check them out at www.AttuneFoods.com.
Sweet Cravingsby Kyra Bussanich
Does the name Kyra Bussanich sound familiar? It could be because she was the first gluten-free winner on the hit show "Cupcake Wars." Now, the cupcake champion has her own cookbook: Sweet Cravings: 50 Seductive Desserts for a Gluten-Free Lifestyle. If you're doing some baking this holiday season, this cookbook is a must-have. I can't think of a better way to prove gluten-free does notmean taste-free than Kyra's Almond Biscotti or Peanut Butter Truffle Crispy Rice Bars (except maybe her Classic Cream Puffs). I was pleasantly surprised to find that the recipes are not as complicated as I expected them to be and I think even inexperienced bakers will be able to recreate her recipes. Decide for yourself at www.kyrasbakeshop.com.