July 2013
July 2013

COLUMNS

Cooking with Oonagh
HEALTH/WELLNESS

Drug Development
Frustration & the Gluten-Free Diet
FOOD/LIFESTYLE
NEWS & UPDATES

Dining Out
Contact:
Alicia Carango
Communications Assistant
[email protected]
CONNECT WITH NFCA: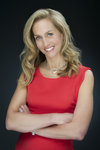 NFCA Founder & President
10 Years of NFCA: Community Stories
My personal story of being diagnosed with celiac disease and how it triggered the founding of the National Foundation for Celiac Awareness (NFCA) is one that has been told many times. And while I feel like I repeat the story often, I never get tired of sharing it. Why? Because it leads to other inspirational stories being shared with me in return.
It is these passionate stories of diagnosis and how NFCA has played a role in helping others gain a diagnosis that makes me feel the most proud and the most accomplished. These emotional stories constantly remind me and the NFCA team of the important work we set out to do.
You can imagine how excited I am that the NFCA is celebrating its 10th anniversary this year. I am so proud of the work we have done to help people restore their health and reclaim their lives. Ten years ago, 97% of people living with celiac disease remained misdiagnosed or undiagnosed. Today, 83% are waiting for a diagnosis. It's not a perfect number, but it's encouraging – it is getting smaller, which means we have made a significant impact.
Throughout the rest of 2013, we will be sharing wonderful stories of everyday people whom NFCA has encountered in our first 10 years. Whether they are dedicated board members, our community, parents of children with celiac disease or friends with non-celiac gluten sensitivity ('gluten sensitivity'), you'll find their stories in the section of beyondceliac.org dedicated to our special 10-year anniversary. I hope that you will read and share their stories so that, together, we can continue to raise awareness of celiac disease and other gluten-related disorders and continue to improve the quality of life for our community.
Thank you for your support over the last decade! It has been quite a ride and I can't wait to see what changes the next 10 years will bring.
To our GREAT health,
Alice Bast
---
---
Gluten-Free Summer "Cool-Down" Recipes
Summer heat has officially rolled in and that means your kitchen can get steamy, fast! Here are two of my favorite summer recipes that don't require an oven or stove top so you can keep cool and have fun with some fruit, too.
AVOCADO, MANGO AND SHRIMP SALAD OR DIP

This dish goes great on a bed of lettuce as its own meal or used as a side dish with grilled salmon or tilapia. You can also keep it simple and serve it in a bowl with tortilla chips.
GOAT CHEESE WITH MANGO AND CRYSTALIZED GINGER
This mix is wonderful served with gluten-free crackers or as a topping to grilled chicken. You can easily make this dish in advance of a party, as it keeps well in the refrigerator for a few days.
About Chef Oonagh Williams
British-born award-winning chef Oonagh Williams has a culinary arts degree and was trained in London and Switzerland. Based in New Hampshire, Chef Oonagh began adapting meals to gluten-free versions after her son was diagnosed with gluten and lactose intolerance two years ago. To learn more, visit Chef Oonagh's website at www.RoyalTemptations.com or 'Like' her at Gluten Free Cooking with Oonagh on Facebook.
Related Content:
---
By Silvana Nardone
Get your gluten-free cooking and baking questions answered by the expert! Have a question for Silvana? E-mail Alicia at


[email protected]


and your question could be answered in a future NFCA newsletter.
With all the summertime travels, parties and barbecues, staying gluten-free can be a challenge, but with some preparation, it's yours for the taking. The National Foundation for Celiac Awareness (NFCA) hosted a #GFSummer Twitter chat back in June and I was invited to be their special guest. The gluten-free community shared such great tips for maintaining a gluten-free diet during the summer. Here are some of my favorites:
What tips do you have for keeping the house cool while baking gluten-free in the summer?
Bake first thing in the morning when you can still open the windows and let the heat out. Keep the fans blowing strong! – @SilvanaNardone
I also bake in the summer on my grill – @SilvanaNardone
We still bake! It's worth a hot kitchen. Late in the evening works well. – @glutenfreegirl
Which traditional summer treats, like s'mores, have you successfully adapted to be gluten-free? How?
We make s'mores with homemade gluten-free chocolate chip cookies – @SilvanaNardone
Homemade fruit pops are fun and gluten-free. I like to add real pieces of fruit. – @abast
What tips do you have for staying gluten-free at a BBQ?
Use squeeze bottles for condiments. That reduces the risk of cross-contamination from gluten-y spoons and knives. – @abast
Use Gluten Free Labels or Allermates products to distinguish what is gluten-free and what isn't. – @celiacbeast
Which gluten-free foods/snacks are your must-haves during summertime travels?
My kids love nuts, watermelon, gluten-free popcorn, fruit snacks, cherry tomatoes, ham roll-ups. – @silvananardone
Keep it clean and close to the earth with fresh summer veggies, fruits and farm fresh eggs – @glutenfreefrenz
For all of the great tips from the chat, go to Twitter.com and search for the hashtag #GFSummer. My final piece of advice? Have an awesome gluten-free summer: Food and fun go together! So, remember to relax and give in to fun in the sun!
Here are some recipes to make your summer a breeze:


Gluten-Free Grilled Fruit Cobbler


Gluten-Free, Dairy-Free Summer Vegetable Salad

About Silvana Nardone

Silvana Nardone is the author of Cooking for Isaiah: Gluten-Free & Dairy-Free Recipes for Easy, Delicious Meals and founder of silvanaskitchen.com, a blog that takes the guesswork out of how to feed a family with food allergies. Join the gluten-free conversation in her Facebook community or follow her on Twitter or Pinterest .
Related Content:
---
---
Celiac disease research is rapidly gaining ground with more studies and potential drug development happening than ever before. The National Foundation for Celiac Awareness (NFCA) is dedicated to advancing research, so we are proud to bring you the newest addition to our website: Drug Development and Clinical Trials.
We'll be updating this section regularly as researchers work to find new celiac disease treatments beyond the gluten-free diet.
Here's a snapshot of what's inside the new section:
Celiac Disease: Immunology 101 and the Drug Development Process
Who's Who in Celiac Disease Drug Development
Clinical Trials
Celiac Disease Drug Development in the News
---
Frustration and Isolation on the Gluten-Free Diet
By Patrick Bennett
Those living with celiac disease are experiencing frustration and isolation when newly diagnosed, but also after several years of living on the gluten-free diet, according to a new survey. Conducted by the Canadian Celiac Association and Health Canada, the study was based on nearly 6,000 participants and explores the emotional toll of living with the disease.
About two-thirds of those on the gluten-free diet for more than five years who responded to the questionnaire survey were frustrated with others feeling sorry for them, while a quarter felt embarrassed by their dietary needs. Nearly one-third of participants felt as though they were a burden to others.
---
---
There's no better way to celebrate summer than by enjoying good food and good company. That's why NFCA is hosting a virtual gluten-free summer block party with a few of our gluten-free blogger friends. They've come up with original gluten-free recipes – all designed to give you some inspiration for your next party.
Keep an eye on the NFCA Summer Block Party page for the recipes and party recaps throughout July. Head there now to meet the gluten-free bloggers!
Thanks to Blue Diamond and Go Veggie! for sponsoring the block party!
Related Content:
---
The National Foundation for Celiac Awareness (NFCA) is gearing up for the 6th Annual Celiac Awareness Night with the Philadelphia Phillies and the staff couldn't be more excited for this year's event. We'll be hanging out in front of the Hall of Fame Club (near Section 211) to provide fans with information on celiac disease, gluten sensitivity and the gluten-free diet. Come by to meet the staff and enter your name in the free raffle for your chance to win Phillies memorabilia and tickets to a 2013 regular season game plus a parking pass and a coupon for great food at the stadium.
New this year!
There's not one, but two dedicated gluten-free concession stands (A new stand, located in section 136, is now open all season long! Plus, Aramark, the foodservice provider for Citizens Bank Park, will set up a stand in front of the Hall of Fame Club near NFCA's information table.)
More gluten-free options:

Chicken sandwiches
Hot dogs
BBQ pork sandwiches
Cheesesteaks
Pizza
Chickie's & Pete's Crab Fries and Cheese Sauce
Chicken tenders
Philadelphia Water Ice
Redbridge Beer
Angry Orchard cider
Woodchuck cider
For more on the gluten-free options available at Citizens Bank Park and ballparks across the country, visit Gluten Free Philly's 2013 Gluten-Free Guide to Major League Ballparks. Special thanks to Michael Savett, the voice behind Gluten Free Philly, and NFCA's Nancy Ginter for playing an instrumental role in working with Aramark to get more gluten-free options into the ballpark.
NFCA receives a portion of ticket sales to support our free programs and services for people affected by celiac disease and other gluten-related disorders. Read the recap of last year's event on the NFCA staff blog,

Celiac Central: Bits and Bites

.
---
---
By Cheryl McEvoy, Director of Communications and New Media, NFCA
There's a reason why some gluten-free consumers, no matter their faith, look forward to Passover each year. The holiday restricts consumption of wheat, barley, rye, oats and spelt, which means many of the special Passover products that hit shelves are also gluten-free. Years ago, when gluten-free alternatives were in short supply, Passover became known by the celiac disease community as a time to stock up, and it continues to carry that reputation today.
Now, what would happen if a company specializing in Passover products took those skills and put them toward developing gluten-free alternatives? That's exactly what the executives at Kedem, one of the leading manufacturers of Kosher products, are banking on with their new year-round line, Absolutely Gluten Free.
"We noticed feedback coming from outside the Kosher market," said David Levy, Marketing Director for Absolutely Gluten Free. "Lots of emails – it was unusual to get that."
So, the company took its formulation for Passover products and used it to create Yehuda Gluten-Free Matzah-Style Squares. It was Kedem's first foray into the gluten-free market, and it was a hit. "It was a tremendous response. We never had such feedback as we did on the Gluten-Free Matzah-Style Squares," Levy recalled.
Based on the success of the squares, Kedem executives decided to expand its gluten-free offerings into a line that would be available all year, not just during the Passover season. They also opted to place the products in the gluten-free section, rather than the Kosher aisle – a move that made it harder to get on store shelves, according to Mordy Dicker, Vice President of Operations for Absolutely Gluten Free.
While the initial Passover products happened to be gluten-free, the company makes sure its Absolutely Gluten Free line is just that – absolutely safe for consumers with celiac disease and other gluten-related disorders. The products are tested and certified gluten-free, Dicker said.
Currently, Absolutely Gluten Free includes crackers and flatbreads – both potato-based products, which is signature to Kedem.
When it comes to deciding which products to add next, Levy said they aren't looking to replicate what's already been done. Instead, they're aiming to provide products that fulfill a need. Most importantly, they need to taste good – not just as a gluten-free alternative, but also when compared to gluten-containing products.
"We make a concerted effort when looking at a gluten-free product that there's a fit and a need," Levy said.
It can take months to develop and package the right product, but Levy and Dicker they'll be expanding Absolutely Gluten Free soon. No word yet on what the new products may be.
---



Dining Out

Congratulations to the newest GREAT Kitchens!
The National Foundation for Celiac Awareness (NFCA) revamped its GREAT Kitchens program and we are excited to announce the newest additions to the list! These restaurants have successfully completed the GREAT Kitchens online training course and have earned GREAT Kitchens Status.
Not all kitchens that go through the course can call themselves GREAT Kitchens; only those who can prove their commitment to gluten-free are awarded the designation of GREAT Kitchens Status. Not only do these restaurants complete the gluten-free training course, but they take what they've learned and change their menus, policies and procedures to safely accommodate gluten-free diners. All of their protocols must be submitted to NFCA for review and approval before GREAT Kitchens status is granted.
The following restaurants are the newest kitchens to be recognized as GREAT Kitchens for their commitment to serving the gluten-free community safely:
The new, updated program now offers individual course modules so each employee in the restaurant, from the wait staff to the chefs, understands the importance of gluten-free food and how do prepare and serve it correctly. That means you can feel more comfortable dining out gluten-free in restaurants that have been awarded GREAT Kitchens status.
Learn more about the GREAT Kitchens program on beyondceliac.org and be sure to tell your favorite restaurant about gluten-free training opportunities.
---
---



Coming Attractions

Free Webinar: "Shifting the Focus: Lessons Learned from the Physical & Emotional Well-Being of Gluten-Free Athletes"
Thursday, July 18, 2013 at 2 p.m. EDT/11 a.m. PDT
As awareness of the gluten-free diet continues to spread, so too does the population of individuals gaining a benefit from this lifestyle. Athletes and other physically active people have reported improved endurance, performance results and mental clarity after going gluten-free, whether out of medical necessity or by choice. Join NFCA as Dr. KC Wilder, a Sports Performance Coach, applies the successes of gluten-free athletes to the gluten-free community at large through a discussion on ways to maintain both a healthy body and mind.
Sponsored by Attune Foods, this Webinar is free of charge!
Free Webinar: "GREAT U Special: Navigating the Gluten-Free Social Scene at College"
Wednesday, August 7, 2013 at 8:30 p.m. ET/5:30 p.m. PT
NFCA's second Webinar of its special kids and teens series will identify how gluten-free college students can overcome obstacles while away from home. An open discussion will provide attendees with tips on how to stay gluten-free in the dining hall, dating dos and don'ts, preparing your "Celiac disease is…" elevator speech and more! Join NFCA as Rebecca Panzer, MA, RD, LDN and Sam Master, a third-year medical student living with celiac disease , lead a lively presentation aimed to answer the top concerns of gluten-free college students.

Sponsored by Thai Kitchen, this webinar is free of charge
!
15th International Celiac Disease Symposium

Sunday- Wednesday, September 22-25, 2013 in Chicago, IL
The world's largest meeting on celiac disease and gluten-related disorders is happening this year in the Windy City. With two educational tracks, the International Celiac Disease Symposium (ICDS) gathers the research, healthcare and patient communities to share knowledge and discuss hot topics in the celiac disease field. The symposium includes educational sessions, social activities and an exhibit hall.
Visit www.ICDS2013.org for more details and to reserve your seat today.
---
By Alicia Carango, NFCA Communications Assistant
Article Challenges Restaurants to Take on Gluten-Free – Safely
Gluten-free food is in demand more than ever, and the seafood restaurant industry is taking notice. Seafood Business magazinededicated an entire article to the growing need for gluten-free options and who really needs them. The magazine interviewed National Foundation for Celiac Awareness (NFCA) Director of Gluten-Free Industry Initiatives Beckee Moreland to help explain why safe gluten-free food preparation is so important for our community.
Read more from Seafood Business (see page 28).
Gluten-Free Lands on the Front Page: "Much More than a Trendy New Diet"
Celiac disease was front and center in the Health section of the Philadelphia Inquirer on Sunday, June 23rd. Featuring NFCA President Alice Bast, the article made a big stride forward in raising public awareness of celiac disease and other gluten-related disorders, shattering the misconception of the gluten-free diet as the latest weight loss diet. Plus, the article hit newsstands during the week of NFCA's 10th anniversary!
Read more in "Celiac in the News."
Twitter Buzzes about Celiac Disease during Chat with ABC News
NFCA took to Twitter to help raise celiac awareness in a Tweet chat hosted by ABC News chief health expert and medical correspondent Dr. Richard Besser. The goal of the chat was to put the facts out about celiac disease and gluten sensitivity. Also joining the chat were other celiac disease experts, including NFCA President Alice Bast, the Mayo Clinic, the American Gastroenterological Association and New York Presbyterian Hospital.
Read more in "Celiac in the News."
Celiac Facts: Huffington Post Submission Tackles the Myths
The Huffington Post recently came out with a short, yet informative article on celiac disease and the top 10 facts they feel everyone should know about it. The article cleared up common misconceptions about celiac disease, including the fact that it is an autoimmune disease, notan allergy.
Read more from the Huffington Post.
Pro-Golfer Takes Gluten-Free Grocery Tour
NFCA Athlete for Awareness and professional women's golfer Sarah Jane Smith hit Wegmans to take a tour of the grocery chain's gluten-free offerings while competing in the Wegmans LPGA Tournament. A seasoned traveler because of her profession, Sarah Jane offered some quick tips on being prepared while on the road.
Read more in "Athletes for Awareness."
Dunkin' Donuts Rolls Out Gluten-Free Options Nationwide
That's right – Dunkin' Donuts is getting in on the gluten-free action. They're in the midst of a nationwide rollout of the new individually packaged products, which include gluten-free cinnamon sugar doughnuts and blueberry muffins.
---
---
By Alicia Carango, NFCA Communications Assistant
Beyond Bacon: Paleo Recipes that Respect the Whole Hog
I have to admit, I found this cookbook to be a bit intimidating. While the recipes are gluten-free (the Paleo diet eliminates all grains, including wheat, barley and rye), they embrace all parts of the pig and call for ingredients that some cooks may find inaccessible (for example, lard). That's not to say these recipes don't look delicious! With everything from breakfast to dessert, there's a recipe in here for every meal of the day. Among some of the outside-the-box ideas: Bacon Pumpkin Pancakes. (Sounds yummy, doesn't it?) You can learn more about Beyond Bacon at PaleoParents.com.
Teecino Dandelion Caramel Nut Herbal Coffee
When it comes to coffee, I like to keep it simple – classic roast, little bit of milk and a little bit of sugar. For some reason, Teecino's Dandelion Caramel Nut Herbal Coffee caught my eye and I decided to give it a whirl. This herbal coffee smells great and tastes even better. It has the distinct taste of something familiar to me, but I can't quite put my finger on it. Either way, I am definitely a fan of this certified organic and gluten-free drink. Teecino has a lot of other flavors to try, too: www.teeccino.com
Stubb's Original Bar-B-Q Sauce
What's a summer party without enough barbecue sauce to go around? If you're looking for something new to put on the table this summer, you should definitely give Stubb's Original Bar-B-Q Sauce a try. I liked Stubb's because it didn't have a tangy taste like some barbecue sauces. While it wasn't a watery barbecue sauce, it wasn't overly thick, which is a quality that I like in a barbecue sauce. Whether you're looking to marinade chicken or use it as a dipping sauce, Stubb's will do the job. All of their different flavored barbecue sauces and meat rubs (all gluten-free!) can be found at www.StubbsBBQ.com.
---